From " Yar" to "Sir'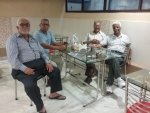 Tue, 04 Apr 2017
From " Yar" to " Sir"
P K Routray
Crafted at the net
four friends met
after half a century
with fond memory
obscured by power and position,
wealth, health and family tension
enduring the life as it had come
crowning some and drowning some.
Jaded are they with earthly burden
longed to go back to have the  teen agers' fun
Balding scalps, grayed hairs, on aging body fat as cover
hard to recognize each with only height being the borrow meter.
Some by first name, some by surname, some by nickname,
Some peculiar names as could our notoriety then frame
were known to all and as such are niched in our hearts
and their tender faces with shining teeth are preserved without dirt
The nick names of each peeped from behind their memory curtain
but none dared to express as its acceptability was not certain.
From "Yar" to "Sir" they hade moved during this fifty years of separation
and on the way of life at par with RENGCOL days' friends they found none.
Uncomfortable each was with this formal alien expression
within each peeped teen aged "Yar" so far lost in the oblivion.
But when one of them dared break the fifty years' blockage
laughed away they all at peak of their voice cherishing the teen days bondage.
Came down at once all from seventy to seventeen,
mad became they with nostalgic memory of their teen.
Seeing the snaps of the moments we friends dreamt those days
each incident, each friend  of those golden days  in us glitteringly blaze.'
(They were four out of two hundred odd students who had read together in RENGCOL staying together for five years from 1965 to 1970. They met just a week back after forty seven years.Our friends are Kulkarni, Bhel, Banarjee, Amitav met for an hour at Kolkata They forgot their difference in schievements and status/)