Some Times Bad Things, Can Be Fun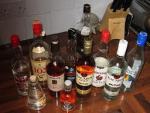 Mon, 07 Jul 2014
A few sips of ethanol liquids in
My own time, wouldn't seem a
Crime to most, while others could
See it as a slip to decline,especially
If you happen to share a room with
My sister Elsa Carbine.
So I can't help myself when she
Starts to shout out, 'stop,the devils drink'.
To point out her little indiscretion last
Summer, while helping Mr Plummer.
Who happened to be engaged to another.
Her perfectly formed eye brows
Start to move in a scary manner more
Like a matador,determined to outwit
His bull.' 'That was innocent 'she screams
'That was any thing but, I sharply replied,
'Or you wouldn'nt of sneaked out every
Morning to see him for over a month,
Until he got bored and tossed you a side,
Like a  worn out mini cooper that lost
It's shine'.
Then she glances at me with a wicked
Smile and tilted her small petite head
Down towards the floor and pretended
To cry, as sister Catherine walked by
Who softly whispered in my hear.
'Mary Elizabeth, leave sister Elsa
Alone, you should know better than
To corrupt a young girl so innocent in life'.
Who's almost ready to commit to Our
Lord Jesus Christ'.
So that night I couldn't resist
Putting laxatives in sister Catherine
Late night gin, and put the evidence
In Elsa waste paper bin.I know it was
Sin and do feel a little remorse,
But at the same time my mischievous side
Would not rest until the truly devious one,
Got punished for once. And I can't lie, it felt
Good to let my wicked side creep out
From within.