Les Rowse, Philippe and I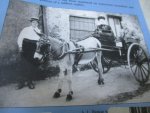 Fri, 02 Feb 2018
'I have no use for the great heart of the people. Or rather that is about all of theirs I have any use for: their emotional life, its depth and sincerity and vitality and directness, is their greatest strength, not their intelligence, their wit, their brilliance, subtlety, variety of conversation or understanding.' - p 105, A Cornish Childhood by A L Rowse. 1942
Alfred Leslie Rowse, Les to family and friends was born in Tregonnissey in 1903. It is within walking distance of today's Eden Project. Water was drawn up from the well, lamps were lit by oil and learning to drive meant harnessing Neddy, the family donkey to the cart. Les escaped through effort and education. Although his parents would not have been able to tell a seat of learning from the seat of their pants he went to Oxford funded by a patchwork of local grants and bursaries.  Camborne School of Mines was founded in 1888, but Cornwall did not have a university untill 2004.
Reading his words 75 years later I understand his alternating pull, towards and away from the common people, his praise for their heart and honesty yoked to his scorn of their limitations. I've come to this crossroads by the opposite route. I showed the path of privilege my arse, decided it was easier and generally more fun to join the rabble than the elite and slid down to commonness. Sometimes I raise my game through words and reading people I like.
Les' energy, his thirst for knowledge- it's awesome. He read Swift, Hardy, Stevenson, Wordsworth, Alphonse Daudet, because he wanted to, because he enjoyed staying up half the night reading by oil lamp in his parent's crumbling cottage kitchen while his workhorse Mum and Dad snored their socks off. Les was a workhorse too, he was allowed to stay on at school provided he put in long hours helping in the family shop which Dad ran after his  work at the china clay pithead. Mum did the housework and the shop, though arthritis made exertion hard. They got Les to do the books - when they added up the sum came out different each time.
He became a published author at 18. He won prizes for poetry, short stories and non-fiction. When he won £2.00 his Dad made him spend it on boots.
I had all my essential clothes paid for by my family. Les'  Dad was a tightfisted sod. The part of his early school experience I share is his excitement. Not 'hip  hip hooray' but something that always made it worth it, over and above attendance compliance. An emotional response. Unfussy. I picked at the food on my plate but not at this. Learning, any type of learning was escape.
He describes the wonder of his first French lesson, learning 'le chat mange le rat.' I remember a primary lesson on fur trapping in Canada. Something about the pelts of beavers being processed and traded. I walked home. Soon aften the heavy grey cloud cascaded.
'It's pelting down' said Dad. I knew it wasn't the same but ooh the thrill!
Cornwall's economy at the turn of the century was crumbling, the minerals had been hacked out of the earth and there was no fishing or tourism inland. Recovery is maybe a work in progress, as a tourist today I do not know enough to make an accurate comment. His sister Hilda left for America to work as a nanny. Her hands-on love for her baby brother who arrived when she was 10 built the copingstone of her skills. John the middle child escaped to London, then married a Cornish girl and the couple followed the well-worn path to the mining towns of South Africa. Divorced, disillusioned but still with energy left he returned to Cornwall and drove a lorry.
Les left Cornwall for the first time on an overnight stay to England(!) accompanied by his father for a weekend of London interviews. He begged Dad to stay silent. 'Les spoke to them like a lawyer' his old man said, in a rare moment of praise.
He piled success on success. He bought a big house overlooking the old place. He moved  Mum in, out of her new council house , along with his books and his cats - Dad was now dead and Les was always closer to Mum. He wrote a Cornish Childhood, by far his best known work, in 1942 when he was ill with stomach conditions and stress. He also wrote over 100 other books, mainly academic books on Shakespeare and Tudor England. He also tried to get elected as a Labour MP.
How he must have loved to impress the villagers and the smalltown small-minded mining officials he had grown up amongst and good for him! Local people may not have seen the point of all his learning but they could all now see how well he had done. I am sure he was upheld to growing youth far and wide as a shining example.
Compare and contrast all this energy and purposeful industry to Rachel – the soft sorry lump of an amateur Abc author who sings his praise, because, hell knows why, we think alike.
 (Gonna leave you now until Monday, if you have persevered this far. Perhaps you are asking 'who is Philippe?' Spoiler – he's interesting but it's not about sex.)