Peel Park. New Year's Eve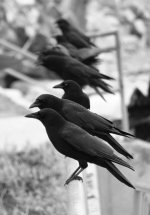 Sat, 09 Jan 2021
By the lake the footprint snow 
cracking as if bird bones. 
A rat argues with a goose. 
Who wouldn't tick this time of day?
And I think of the decade long year.
Its hope and then its death.
Of the Cob murdered by men.
His Pen heartbroken, lost in love.
Eggs abandoned, Cygnets only dreamt. 
A rusted spring, a barbed wire summer.
And I think of us three laughing. 
Our Magpies of shining gifts.
A little wildflower garden.
Our essays and our teaching.
Encouragement, our victories.
Your unknown, unbearable pain.
My autumn Crows returning.