Mackerel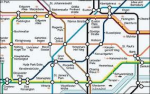 Sun, 05 Oct 2014
In December 2009 the circle line stopped being a circle. Before, you could spend the whole day riding it, counting the stations and watching as people came and went. Farringdon, Barbican, Moorgate... The loop, however, had been broken and Viv was forced to find a different way to spend her days out.
Her current challenge pleased her, and she was systematically riding each tube line to achieve it. She'd been through the Metropolitan line, the Central line, the Piccadilly line and the Bakerloo line, which was no mean feat when you had to get off at each stop, wait for the crowds to dissipate, and perform your test.
Today it was the Jubilee line, the cleanest and smoothest.
At each station she disembarked and waited until the rumble of the train had died. While the other passengers left the platform like ants on a feeding trail, she stood facing the sign which announced the station's name.
Nobody paid her any attention, after all there was nothing remarkable about her. Her dark hair was tied neatly in a ponytail, and she was dressed for the warmth of the tube not for the cold of the weather outside. She was thin, too thin many would say, but when you can only eat food which matches the colours of London underground lines, your diet is inevitably limited.
 The moment people often noticed her was when she raised her hand to touch the sign. Viv wasn't oblivious to this, just protected by her earphones and her excitement. Kilburn, however, was dingy and quiet; nobody gave her more than a glance.
She slowly began to trace the letters with her finger. Grime turned her finger-tip brown, her skin merging with the substance of the underground. K ... i ... l ... She stopped, rubbed her hands together to spread the dirt evenly, and boarded the next train.
At the next station she only got to the second letter: W e
F i n c
S w i s s  C
S t  J o h n ' s  W o o d
Her heart beat faster – this was what she had been looking for. The one station which didn't share any letters with the word mackerel.
*             *             *
She returned home to tell her friends of her triumph, hoping they could have mackerel for supper. By no stretch of the imagination did it match anything on the colour palate of London's finest transport system, but it was the one food with the honour of being an exception.
Lilian, the carer who knew Viv best, met her at the door.
Lilian was skittish as she served supper, which was nutritionally adequate but wholely uninspiring. Her duty of care to Viv and her carefully-matched housemates lasted only as long as her shift. At 8pm sharp she was free return to her husband and son, and she could focus on Pepper Pig or CSI, depending on whose needs she was attending to. Except that she couldn't. When her patients told her about their days she always feared what she might discover. Their revelations would often fill her mind while she was with her family.  When she should be concentrating on Fireman Sam's dramas, she ended up focusing on Viv's. 
As Viv recounted her story, Lilian remained silent. She dreaded tales from London's streets (or tunnels) which could accumulate into reasons for stopping Viv's adventures. Each night that Lilian slept just 1.5 miles away from Viv, she felt the proximity. Responsibility drifted effortlessly across the park, housing estate and school playground which divided them.   
Today she loved Viv, but when she rejected broccoli because it wasn't 'District line' enough, or complained of bananas which were insufficiently 'Circle', Lilian's patience was stretched to the limit. The point at which tube closures became hunger strikes, she decided, would be time to open Viv's eyes to new adventures. After all, there's only one US state which shares no letters with the word mackerel.