"Stonking Views", it said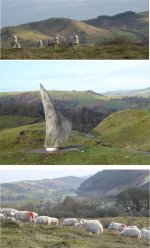 Fri, 04 Jan 2019
Walking around little Castle Hill
near Knucklas viaduct:
a sign to the castle
(divert up for "stonking views"
the walk-notes say),
steep short path
onto small earthworks:
pregnant ewes crowd in
probably hope we are
bringers of supplement-food;
circular view: valleys,
mid-Wales and Shropshire hills
and humps,
and, around our feet,
miniature model in dykes and bumps?
(– disguising buried castle walls and defences).
As they said, large, exciting, impressive sight!