10 things Before you Drown …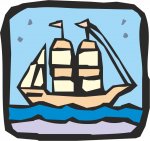 Mon, 28 Jan 2019
Your ship is going down,
and soon you all may drown,
first shoot a flare, or send a text …    1.
and then what next?
Are all the other people out?    2.
"Abandon ship", you'll have to shout.        3.
Has each a life belt or a float?        4.
Then urge them swim far from the boat,        5.
clear of suction when it goes,
suddenly slips in sinking throes.
Check the number going over,        6.
help them pal up, watch each other;        7.
Draw them close to calmly wait        8.
together, and it's not too late
to pray for rescue, or God's grace        9. 10.
to lead through drowning to his place,
forgiven the bad things you've committed,
the good intended but omitted.
[IP: Ten things before drowning}