Above Clun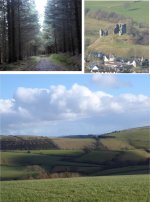 Sat, 09 Feb 2019
 (7/2/19)
A sharp shower as we climb
out of the village,
then steeply up the fields
into the wind and sun,
high above Clun,
with the green waves
of Shropshire hills surrounding,
and wide blue sky above
scattered with bright white clouds-puffs.
We walk on, cameras clicking
in all directions
(the benefit of digital
– no need to ration
or regret using up
the afforded few
before the better views appear!)
up and down among the hills
to circle back with
a short time in
the forest –
so dark, so silent and still
except high overhead
the wind in the treetops
whooshing and shaking
the branches, like a passing jet.
[IP: wind – the wind that day wasn't as fierce as at present, but a good sharp, freshening bluster!]