The Busy Middle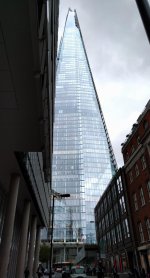 Tue, 09 Aug 2016
(Central London)
Hustle, bustle, rush and crush,
busy people pushing past
want to reach their 'somewhere' fast;
hoping they will soon have quitted
all this whirl, and noise emitted:
evening haven – peace at last,
temporarily outcast.
Mass of traffic: stop and go,
intermittent bulky flow,
people wending in and out
(– what's the hurry all about?).
Giant steel and concrete cages
towering over (from past ages)
odd-shaped 'squares' (where churches squeeze)
with muted noise, and welcome trees.
Sharp towering Shard of glistening glass,
thrust up among  the grounded mass
that shelters motley working throng.
It doesn't seem to quite belong –
an icy thorn from glacier torn
to dominate with gleam and shimmer –
this spikey sliver sparks a shiver
puncturing sky above the river.