Cash in the Attic (IP)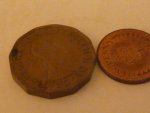 Mon, 08 Dec 2014
1 likes
Sing a song of old coins,
a pocket full of change –
ten times four and twenty
old pence (look so strange)
but when the bank was open
they gave me in exchange
a little shiny new round thing
from the modern royal range.
The mint is in Llantrisant
making lots of money.
The queen's head is imprinted
on every pound and penny.
The forgers skulk and labour
pressing out their wares,
'til soon there comes a copper down
to stamp out their affairs.
[IP: Take a song - and go from there - in any way you wish.]