The Composer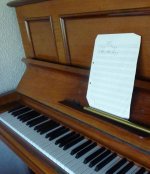 Thu, 22 Sep 2016
Grand opening bars,
then fingers stop,
thoughts fizzle out,
ideas flop.
He wanders and drifts
with no fixed aim …
until a climax
comes to his brain –
dramatic crescendo
and stirring chords,
exciting finale
that 'speaks' without words.
Two ends to the sandwich:
now, how in between
to hold the attention
and interest, seem
to show where it's going,
to vary, quick turn –
calm moments, and passion,
a change, then return –
the promise develop
of the opening theme?
not constant 'italics'
but pauses to dream,
then puzzle them, spring
surprises, they wait
now knowing he'll bring
an apt resolution,
fulfilling conclusion;
so, suddenly, slowly,
thoughts guiding his hand,
he grips them and thrills them,
he teases and spills them
down the very last plunge,
arriving as planned
at the end of the journey,
profound ending grand.
 [IP: The Grand Opening]