Dear Dad … 2)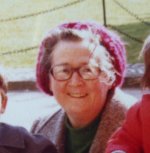 Thu, 11 Apr 2019
1 likes
[not about 50 years of technological changes this time, but about Mum's life after his death …]
Dear Dad,
Your death was sudden, on holiday in the depth of rural southern Ireland, after such a busy time. But Mum always felt it had been a lovely holiday for you both. The AA had to bring the car back, as she couldn't drive.
One thing afterwards, was that she felt she'd let you down by not learning, but we didn't think you'd felt like that. However, she decided she must have a go at it, as she'd rather avoided it while you were alive. So, she took some lessons, tried to learn, or sort of – went around the block in first gear, I think, and soon felt she'd worked it out of her system, and had at least been willing to have a go. Obviously she was more tied to public transport, but then she had good bus and rail links from the village/suburb.
It did mean, though, that she had to stop going to the Welsh chapel in the next village. You used to get frustrated at the pointlessness of the mostly social gatherings didn't you? You didn't expect much of sense to listen to, and found that frustrating, puzzling. Probably enjoyed the singing mostly, harmony singing, good tunes, good words I expect, you with a solfa tune book. Anyway she went instead to the little English one nearer to her home with her friend over the road, and found the preaching on the whole more often helpful, and gathered with others for Bible Study and found it good.
You knew that when I was home from college I had started going with a family in the village to a church a bit further into Cardiff. Mum had begun to wonder about having a lodger as the house was quite big, and she was on her own when we were in college. She didn't want to advertise freely, with uncertainty about who might come. One vac I heard of a young man in this church who was far from happy in his digs, needing to do some slightly messy hobbies I think to unwind from his nursing job, and the landlady was very tidy and particular (not Mum's failing!). I suggested to Mum that Des come to see her, and he proved a real support and friend, a 'son', delighting to do jobs, and having a similar sense of humour.
Actually, before my husband and I got married, there was a time when this lad was on night duty, and he was happy for my husband-to-be to sleep on his bed at night, and he himself in the day.
When she realised that our car had come to the end of its life and teachers' pay was pretty low in those days, she offered hers (as had been yours, too!) to us, telling my husband she'd be happy for us to have it, as long as he use it for us all to come to visit her! (It was quite a while later that I learnt to drive, and again, Mum helped a bit there, both financially and with baby-sitting I think, saying to let her do so, as she felt she'd not encouraged and helped me to learn when I was younger!)
It was lovely to feel that she wasn't embarrassed to offer things like that. It seemed a sign of a good relationship.
A retired minister settled in the chapel she went to, and gave them good ministry and pastoral care for a while. She'd found the young man who before then had looked after that chapel and a few others, a bit irritating when he came to see her when you died. Maybe, kindly meant, but she thought his 'How are you managing to cope?'  seemed to be like a research question, and she answered him rather grimly, 'My girls' need of me, and my need of God.' And she did seem to turn to Him in a real way in her great need and shock.
When this new minister really retired and had to move away, his son, Michael, lodged with Mum, as Des had got married.
Her friend over the road was an ever close friend. They could see each other as they spoke on the phone, each with the phone at the front door by the little window, as was usual in those days, and firmly plugged into the wall. She wisely said that it helped them keep in such regular touch without her feeling an intrusion into their family life.
Once I had children, she delighted in visiting us very regularly for quite long stays and actually got closer to them than the in-laws who lived nearby but didn't see the children in their grumpy and tired times. Maybe were a bit more shy with them also.
Later when she suffered from rheumatoid arthritis, she was delighted when it subsided enough for her to be able to travel down by train with a minimum of luggage and feel she had a bit of extended usefulness of life again, a gift.
Well that's just a bit of rambling musing about how things panned out for Mum in the aftermath of your sudden death.
Rhiannon
[IP: write a letter that won't be sent]