Film in the night sky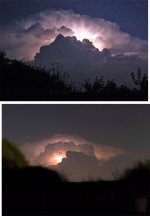 Wed, 12 Aug 2020
[from our garden, north Herefordshire 11/8/20]
A realm lights up in the sky
momentarily,
between cloud mountains:
gone in a flash,
but reappearing again and again
in brief bursts of orange or white light:
forty, fifty minute display.
Sometimes sharp zig-zag lightening
arrows across the centre of
the lit scene –
dark orange or sharp white,
diagonally or horizontally
from cloud to cloud,
not down to the ground.
No thunder
(did the sound shoot upwards?).
but the geese in the distance
wildly honking awhile,
disturbed.