Thinking Time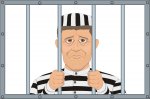 Mon, 11 Jul 2016
His deviousness discovered –
transactions 'all in white'
that should have been invisible,
they'd coloured into sight.
He'd tried to pass the blame
upon the steady lad,
but soon the ball had bounced right back:
and really he was glad:
He'd like to make amends
but first he'd have to serve
the sentence, punishment for what
his crooked deals deserve.
*******
Just out, he'd start afresh –
not out of fear of clink –
he'd seen how foul deceit became,
and didn't like the stink.
[IP: use the phrases:  ball back   first serve   just out   all in white]