Way?-markers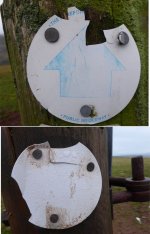 Tue, 02 Apr 2019
1 likes
When walk instructions are unclear,
and arrow-signs the worse for wear
– why does the colour disappear? –
they might, if shaped to point the way
still help us not to go astray!
We need a map, and clear views
or steady signal we can use
from satellite to show position,
(grid ref.) to ease the situation.
A plain white circle gives no aid,
when colours in wild weather fade!