What can you hear?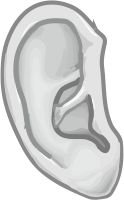 Sat, 09 Apr 2022
Shut your eyes: What can you hear? …
"Buzz! buzz! buzz!"–
a bee is buzzing near …
"Caw! caw!" – black crows fly
high above up in the sky. …
a faint "Miaow!" –
the next-door cat is nearby now …
What's that "Whoosh!" ?
the wind is shaking
the branches in the trees
– like the "shoosh"
or our shower at home! …
"Screech!" – Daddy's home!
– that's the sound his bike makes –
squeaky brakes!
[IP: incorporate five (or more!) different sounds in whatever you write.]