What would you like me to say?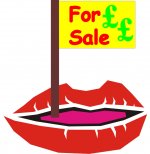 Mon, 16 May 2016
1 likes
Though that is true,
I'll say, for you,
that it is not,
– if you will quietly
pay my way,
I'll say that
black is grey,
or white,
and wrong
is right –
who cares what's true,
or what you do
as long as no-one knows
but me and you.
I'll never know
if oil that drips
out from your lips
is false or fact,
genuine or tact,
or mixed bouquet.
You wont be sure
that what I say
is true or trash,
corrupt, impure.
And so I must endure
my many friends
of gift, or flattery
(that love pretends):
expendable;
no soul-mates
staunch, dependable,
reliable:
a longing loneliness,
brittle happiness,
ephemeral
as the
riches
I possess;
my tongue's for sale,
and will not fail
– you hope.
[IP: corruption]