Where is he? Where is she?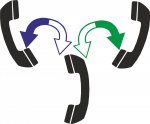 Mon, 15 Apr 2019
First long journey on his own
– we'd meet mid-way at Birmingham.
Dad at home, the telephone rings:
'Will you accept this call?'
 A voice begins,
'I've lost my money, Mum's not here.'
"She phoned to say that you're not there.
– I'll phone her back, stay where you are!"
" He says he's there, he can't be far!"
'Next time he rings, could you check to see
– could he maybe, possibly, somehow be
at Birmingham International Station?
– not so near to me
at the central Birmingham New Street Station!'
"Are you at Birmingham International Station?'
'Yes! I was in a dream, the train paused here,
– Is this Birmingham? – I gave a shout.
They said, Yes, so I got myself out.
… Isn't this right?' "Not quite …!"
Based on a real incident, about 14 years ago. I had a mobile, but my son just couldn't keep track of a mobile yet (cf. the money lost), but his Aspergher-affected organisation gradually improved. He was good at handling awkward situations (cf. phoning his Dad – who felt like 'mission control' – from the station phonebox and reversing charges! I don't know whether he could have phoned my mobile reverse charges.) I was new to the area and hadn't realised the train stopped at Birmingham International just before the main Birmingham station.
[IP: journeys that didn't quite work out as they were meant to.]