Dead Men Tell No Tales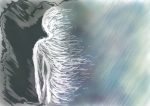 Sun, 07 May 2017
He would come to the end of my bed, sometimes, late at night. Late, when the night itself was perfectly dark, but the light coming in from the window was moon-blue and threaded with silver and gold.
He would stand, not moving, sketched in white, just at the foot of the bed. I would see little of him but his shape; and the green crescent of his eyes.
Me: I'd lay perfectly still, because I didn't want to lose him. I didn't want to sit up, scaring him away. I wouldn't speak, just watch, just listen.
And for the first few nights, when he came, he only did that. He only watched over me, locked eyes with me, just let me see that he was there. And that was enough. I'd been so sure he was lost to me, had cried and grieved and tortured myself with the loss.
I could fall asleep now knowing his eyes were on me.
#
After a while he'd begin to talk. To start by just whispering my name.
Angelica.
Robb?
And then, he'd tell his stories. He would tell me about his childhood. About the mysterious things he'd done before he met me. He told me about his best friend, Geoff. A boy with ragged, raccoon-brown hair. The way they'd used to go down to the railroad and play amongst the trains. There'd been walls and barbed wire fences, a security guard who'd chased them off, who'd once set a dog on them and called their fathers.
#
I told him about the funeral, in hiccuping, faltering steps. I kept wondering to myself: does he even know he's dead? What if he doesn't and I'm telling him like this?
He asked me: Did Dad come back for it?
Me, having to hesitate, having to hang my head, shaking it slowly.
Ah, well...
Well maybe he couldn't. Maybe...
But you were there?
Yes.
You cried?
Of course I did.
Did the sun shine?
I remember: the way it streamed through the trees, dappling on the ground amongst the leaves already fallen, gilding the ones that still clung to the braches. The sky above me like fire – filtered through an autumn canopy. The sound of children playing in a nearby park. The feeling inside me that these things were all poison; that how could they continue, how did the world dare go on without him in it?
Yeah, the sun shone.
#
He would tell me about his travels. Always stand there, a wisp, a projection. The shape of him seeming a little bit less with ever night. Something either fading or changing.
He told me about the time when he walked the Silk Road.
About the time he went sailing the South Pacific. How warm the sun had been, how blue and endless the sea was. The abundance of strange fish. The night when they'd sat below decks, drinking whiskey and circled by sharks. Or the island they'd encountered unexpectedly. Probably not really uncharted; just them, unable to find it on their charts. A tropical cliché – sand and palm trees, and coconuts to drink from.
#
He drowned. Robb did.
I was there when it happened.
It was all so innocent. Just a day out by the river. All lounging around, joking, eating, drinking. We weren't drunk – it was just apple juice, water, lemonade. Lisa getting up and doing a little dance, trying to get Craig to join in. Robb calling: "Who's up for a swim?"
The memory, crashing through me: "Nah, you go. I'm just fine here."
I don't know how the water got him. He was a strong swimmer. He was careful. He was smart. And yet it sucked him under, I saw him scrabbling for the surface, fighting against some unseen undertow, dragged downriver by the current, arms flailing, face popping frantically at the surface, gulping for air, gulping water instead, splashing, going under again.
We all ran along the edge. We all ran. We all called out for him.
We called the police.
We searched along the river's edge, pulling back bushes and thick grass. Calling, calling, calling.
And then Lisa screamed. Everyone came running. Everbody knew.
#
He tells me: I was arrested once.
No, you weren't.
Before you met me.
You never said.
I guess. I never thought to. It was ages ago.
I dare to ask him: What for?
Burglary.
Really?
I was young. I was angry and disaffected. Dad had just gone, and I thought it was Mum's fault. I didn't know whose house it was. I didn't even know why I was there. I just went in, went rifling through drawers. I grabbed a few electronics, a few beers. When the guy got up he went for me, he got a couple of punches in. I got maybe one. Then I ran. Hid out. They found me inside the hour. I was fifteen or I wouldn't have gotten off so lightly.
#
But the image stayed with me. Robb. The water. The frothy river as he fought against it and lost. I couldn't put that image away. When I'd see him – his misty silhouette – I felt that day again, the same panic, the rib-breaking heartbeat. I'd fall back into that moment – watching him and watching him and watching him die.
From the end of the bed, his whisper: don't cry love, don't cry.
Bolt upright. He: as thin as cobwebs, only the outline still properly visible. The rest, just light cast off an invisible form. Just reflections. You're going to leave me.
Not yet, though.
#
He told me: I was going to ask you to marry me.
I didn't know if I could believe it.
I hadn't bought the ring, but I'd made plans. I'd gone looking at rings. And I'd picked the right spot. The right time of night. I checked the forecast for a cloudless evening. Do you think you would have said yes?
But- You know- You know I would.
What sort of ring would you have liked?
Anything. Any ring. Of course...
I had big plans for us. I imagined we'd travel. I'd go show you all the places I've gone, show you all the secrets, all the things I found out.
I couldn't afford to travel like he could. Different worlds, you see. Him rising. Me floating. How would that have worked?
We'd have got ourselves a high-rise appartment. Something open-plan and flash. Just while we saved up for a house. And then children. You know, I pictured our children. There's this app, it let's you take two photos, put them together, see what your children might look like. I was going to show you. They were amazing. As soon as I as I saw them it was like it just had to be.
I cried. After he said all that to me. Grieving for what I'd lost and what I'd never have the chance to lose. The pain would run deeper the more I heard: these tiny secrets, these grandiose plans. The never-to-bes of our love lost. My heart felt scalded.
Maybe he knew.
The last time I saw him – the wisp of him, the remnants – he exacted a promise from me: Whatever you do, live. I'll leave you in peace, but promise me you'll do all the things we could have done together. With somebody else. On your own. It doesn't matter. Just give me that promise that you will.
Me: crying too hard to do that. But maybe I made in my heart. In the bedroom, there was just the dark of night, the blue filter of streetlight through thin curtains. Me: left to wonder if there had ever really been anything else.
(picture credit/discredit: author's own work)