Drift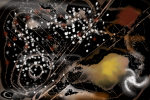 Fri, 11 Jan 2019
This is a different kind of sleep.
This is a sleep without edges, without silence, without stillness; a sleep frilled with patterns, fractals, whispers; the undulation of angles flowing out and out of the deep and never dying, never fading, never softening.
This is sleep without mercy.
But I came here, didn't I?  Of my own will?
The void is as endless as they say, if only because end itself has been gobbled up inside it, smashed and ground and vaporised, spread through the dark so thinly that it can never be.  And so the universe endures.
And I endure.
We are endless together.
#
Nobody properly knows why I did this.  Why I set this pod adrift in space, or why I cut off communications and disabled the beacon.  They didn't think about how thick the darkness is, how quickly it swallows, or how whole.
No goodbyes.  No apologies.  This was never something to apologise for.
If only they could see.  If only they could know what it's like in here, if they could hear the music, if they could see the patterns, unfolding and unfolding and unfolding.  If they could see how finely and perfectly and magically all is connected.
If only they could have seen.
#
There's no telling how many days have passed – a day, anyway, such a clunky old thing when there are no suns for light years in any direction; no planet revolving beneath me.
I think: many days. 
And a year?  When there are no suns to orbit, when the suns are just pinpricks within the swimming void?
I think: a lot of years.
There's just me, alone in empty steel.
Without light.
There was a time when I would eat and breath.  You see, I still remember: a breakfast table, with a thick slab of toast, a tall glass of orange juice; a set of faces all gathered around; and there was noise, there was chatter.  A different kind of chatter – much smaller than what I hear now.
They're back there still.  In spite of the centuries. Because time and matter converge, don't they?  In a curling, folding, winding fabric - 99 parts blackness - there is everything.  Literally everything.  All woven in there somewhere, reachable in the right fold, once you learn to surf the chaos.
I could go back.  Undo.
I could undo.  But I never will.
#
Now, I don't know why the universe chose to sing its song only to me.  Why it shakes off some of those veils and shows me glimpses of its face.  There was never anything special about me.  The same weak flesh, the same doubts and limitations, the same need to eat and walk and piss and make pointless conversation, achieve pointless goals.
I was so scattered, back then.
But now I'm one.
I never took that seriously: make me one with everything.  Just seemed like a load of hyperbolae.  Seemed like bullshit.
But no, I am one.  All the disparate parts, buzzing around: as if a magnet was stroked across them, setting them all in line, matching them up with what's around me.  And the void flowed into the steel, flowed through it, into me.  Flesh and bones reordered, eyes squeezed closed until I could see properly.  And now I see everything.  Now I understand.
They would have assumed some kind of madness, something brought on by the vastness, by the lack of borders, the overload.  There were reports already out there from experts warning about such things.  There were drugs prescribed.  Well, I escaped that. I acted in secret, before anybody could stop me.  I paid all I had to get access to the pod. I told nobody. I just stepped inside.  Disabled anything that would let them bring me back. I untethered.  I floated. I flew.
There are no proper words for eternity.  It has no competition.
We journey.  Together.  And the journey never ends.
Picture credit/discredit: author's own work