Liam Anders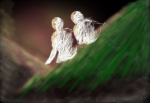 Thu, 19 Oct 2017
He got up before dawn.  Each day.  Crawled out of bed to the stinging sound of an alarm going off beside his bed.  Woke himself with stabbing cold water.  Shook the day into himself, picked up his bag while a house, a street, slept around him, and slunk out the door.
Liam Anders.  We were about ten or eleven, I think, when I first learnt his name.
"The mother's his sister," one of Mum's friends confided.
"Is that a fact?  She looks old enough to be the mother.  It'll do that to you."
"Won't it though?"
He used to deliver the news.  A solitary figure, sometimes lost in a sea of sinking darkness; sometimes a stark silhouette against the pink orange fire of a spring or autumn morning.  Running past our place at the same time every day, shoving a rolled-up newspaper through the slot in the door.  Except on days when I was already out there on the steps, tapping my bare toes on concrete, hugging my legs against me under a chequered dress.
Those were the days when my parents were having one of their epic fights.  The kind that wakes up the whole neighbourhood, that causes lights to flicker on like a cave of nosy glow-worms.  Their shrieking cut through the air; it sliced the footpaths and fire hydrants in half.
"I wasted my life on you, I did!"
"Not half what I wasted on you.  I had prospects.  Fucking prospects!"
"No, you didn't!  Don't you ever going telling yourself-"
"I wasn't like this.  You made me-"
"You did it to yourself-"
"… a wizened old hag now…"
"… a bully.  A failure…"
Me: sitting outside while the sun made orange inroads into the garden, along the rim of the steps, against one side of the house.  Liam jogging along, tossing the paper directly to me.  He gave me a grin one of those days.
A shrug.  "Well, they're always like this."
"When can you go indoors again?"
"I'm going to school like this."
"In your feet?"
"With them chopped off.  In my bloody stumps, leaving little round blood-spots all the way down the street."
"They'll send you home."
"It doesn't mean I'll go."
#
Liam had his own shit. 
He lived with his sister.  Who was supposed to be twenty.  Who looked about thirty.  Who was taking every upper and downer and sideways she could get her hands on.  I don't think one person on our street ever saw her straight.  I know I never did.  I'd see her coming home from someplace – not work, not uni, she didn't have any of that - I'd see her coming home, and she'd be staggering sometimes.  She'd have a bottle in hand, maybe a heel broken, and her tights ripped.  You might think she'd been the victim of an attack.  If you lived some other place.  Or if you'd never seen her.
All of us knew though.
She'd talk to me at times.  Just walking past there.  She'd usually lean over at me with her sweet-and-sour brandy-breath and tell me: "Honey, you gotta be careful out there in this world.  Especially when it comes to men.  You got that?"
Around here, you figure that out pretty early.
I could never understand how she got custody of Liam, why any court, any judge with a brain in his head, would let it happen.
"They didn't, did they?"  Liam confided.
"How come then?"
"Nobody knows.  I'm a secret, aren't I?"
"You just told me."
"But you got my back."
"What does that mean?  Tell nobody?  Why?  You like things how they are, or something?"  It didn't seem at all credible.
And it wasn't.  Exactly.  He said, dropping down there on the steps next to me for a while: "So Dad went first.  When I was small, and Emmy was a couple of years older than what I am now.  I don't remember much.  I just know she got that scar along her face from him.  And Mum, a couple of years later.  Look, for all I know she might be dead.  She just didn't come home one day.  Maybe she left us.  Maybe she got hit by a car, or someone grabbed her and held her down and drowned her…"
"Ugh.  Don't."
"Well, anyway.  I don't know which.  She said Dad ran off.  And then there was suddenly no her.  And so, Emmy worked at a chip shop for a while before they caught her with some of what she stole.  We had a nest egg, and then she drank it.  But by then she was old enough to sign onto a benefit.  And just… nobody ever asks about me."
My little, petty, stubborn side: "Well, I did."
"Nobody official."
"How do you know I'm not official?"
"Aren't you thirteen?"
"Or I look good for my age."
"You look like a scarecrow."
"You look like a tin soldier that melted in the sun."
"Tin doesn't melt."
"Of course it does!"
"And you look like rag-doll that somebody's dog ate."
"And you look like what the dog did after it ate the rag doll.  You look like what came out of its bum!"
We were friends.  Of a sort.
#
And I remember the night when all hell broke loose on our street.
This was the time John Kippener set his attic on fire.
John, you see, he shouldn't have been out in the world.  He needed to live somewhere sheltered.  Because he wasn't up to it, living out here with the rest of us, with all the nastiness.  He was too unstable.  Bonkers really.  His brain was screwed on backwards, full of voices, sometimes with pictures, full of creeping, scraping thoughts that slid along inside his brain and convinced him of stuff that just wasn't.
And who knows what he thought was up there.  What he thought he was burning?
- Unless we're all wrong of course.  Unless he was saving the world up there –
Most likely not.
Mum and Dad were out late.  Recovering from one of their fights with their typical volcanic passion.  The hour sliding into the first few hours of morning.  Me, half asleep, listening to the sounds made by night-time, trying not to listen for them, but not being able to help it.  Still half afraid sometimes of them simply not coming back – the way a five-year-old might be. 
Like Liam wasn't but should have been.  Those years ago.
And then the shouting, the sounds of doors opening and closing, the roar of flames just dimly detected, and the sight of them, undulating, nearly invisible, amongst the floral chaos of my wallpaper.
I went to the window.
There was fire pouring out of John's top window.  John was well clear of it, standing down the bottom and stamping his feet, waving his arms about with all the fingers wiggling, trying to make some kind of point.
I leaned out.  Curious.
"What if he's had someone up there?"
"John.  John, have you got a woman up there?"
"John.  You need to listen to me."  Old Mrs Getty snatching him up by his cheeks and meeting his eyes.  Mrs Getty who doesn't shrink from anything.  "You gotta tell us if you got someone up there."
Liam was there.  He'd come out onto his front steps and was sitting on the little platform at top, one leg swinging over the edge, essentially enjoying the entertainment.  Us: young, living for drama.
But then someone said: "It's most likely Liam's sister."
A few eyes his way.
Goffy Bremworth, shouting his mouth off.  Didn't like Liam, could never give a reason for it.  Had tried it on with the sister and been rebuffed.  So no surprises he finds his voice – which he never keeps too far from his mouth – and starts howling this crap.  But attention flickered his way.  "Most likely he got that drunk bitch up there."
Liam wasn't baited that easy.
Emmy?  Up there in the flames?  That thought snapped and pulsed through my imagination – maybe tied down, maybe with the flames crawling over her like a swarm of rats.  Who knows what John Kippener might be capable of?
Mrs Getty: "Is she up there, John?"
Throwing his head back, making barking noises.  No chance of any sense out of him that night.
And what if there's a woman…?
From the window I could see the top of Goffy's head as he zeroed in on Liam.  He was up for a fight – with a kid, that fearless warrior – and in a mean mood.  "Wouldn't matter much would it Liam, nobody much going to miss her."
Liam doesn't bait easy.  That doesn't mean you can say the same for me. And look, I can be out of that window and scrambling down that roof-slope in a matter of seconds.  People have seen me.  People know.  And they knew about that night, in my nightie, in my proud, scarred bare feet, charging on down there and leaping on Goffy's shoulder.
Umph.  That was more or less the sound that coughed out of him.  He swayed for a moment before he tossed me across his back and onto the ground.  I landed hard, but I didn't care.  I was back up on my feet again, right in Goffy's face.  "You don't know anything about Emmy Anders.  Just because she won't go to bed with you.  Everybody knows."
"And they know who she does go to bed with."
Who?  I tried to hold onto my momentum, to feel like an adult facing off against another adult, on equal turf.  I tried to keep my fury swirling around me like a weapon-armour combo.  "You don't know anything about her."
"I know what we all do.  I know she's a wormy, drunken old slag who likes nothing better than a bottle, and doesn't mind a man to help pay for it."  To the neighbourhood in general: "Well, I'm only telling it like it is."
"Why don't you go and tell it to someone that cares?!"
And then Liam, who didn't need to raise his voice: "Yeah, she's not home.  She's out.  She was never with bloody John Kippener."
So that was that.
He could still have had somebody up there.  Some of the men were debating if they should try and get up there and take a look.  Mrs Getty was still trying to get a few words of sense out of John.  A street with lights punctuating the dark of every house.  A street full of silhouettes in bright doorways and haloed in windows.  The noise running up and down, skipping along gardens, over bushes, swirling around drainpipes.
John started to rock back and forth.  Really losing it.  Sliding onto the ground.
They'd be coming to take him away.
There were sirens.  You could hear them.  And even if no-one had called them, there was the fire that was like a beacon that was going to reel them in eventually.  There's people on this street who've murdered people; there's definitely thugs and drunkards and thieves, so the crowd thinned out, and the ones that stayed got hard look on their faces: a confrontation, a chance to sweeten the night with a brawl, with a great big 'up yours' to the man.
No place to get caught in the middle of.
Me and Liam snuck away to his roof.  No place to be in the middle of; but watching from the sidelines, from a height: adolescence demanded that much of us.
#
We stayed up there until dawn.  We got a good view of the fire engines, and the police car; the two cops in uniform who pepper-sprayed John and took him away.  A few of the lads from down the alley made a point of heckling the cops.  From a safe distance though, inches away from shadows and bolt-holes. 
And then the quiet of morning.
This eerie place between night and first light.
"You didn't have to go jumping on Goffy for me."
I shrugged my shoulders.  "Just Goffy."
"He's got a mean streak.  Even with girls."
"He's bitter cos Emmy won't have him."
"That's true."  And he told me: "Look, I know about Emmy, okay?  Everyone does.  And I live with her, don't I?  You know she's not a whore, right?"
Did I?  "I…" I sort of, I almost, probably…did…
"She's not.  I know she's taken a few men for money here and there.  And she's hooked up with someone for a bit who can help pay the bills, right?  But she's not…a pro.  It's just bits and bobs here and there.  She tells me."
"Do you want to know?"
"I want to know what's true and what's bullshit.  She does her best."
"Hey," holding my hands up, "I like your sister."
"Yeah?"
"She talks to me like I'm a person."
"Yeah, her eyesight…"
I punched his arm.  "Being serious."
He gazed out over the patchwork of roofs.  "Yeah.  Me too.  She's been good as any mother."
"She really twenty?"
"Yes."  His voice swooped into a defensive tone.  "She never had it easy, that's all."
"You either."
"I got by.  I remember her y'know?"
"Your Mum?"
"Yeah.  I wasn't that young when she went.  I remember her the way she used to sing.  Like when she didn't know anybody was listening.  She'd start tapping her feet, and she's sort of swing her head back and forth, and she'd be tapping her thumbs against her hands kind of.  Kind of weird like.  Him: I know his face.  I can remember these little bits here and there.  These flashes.  And Emmy tells me that's good, because the shit she remembers of him I could do without anyway."
Somehow that calls for silence.  Into the silence I asked him: "Do you think my Dad's going to run off?"
"Yours?  Nah."
"You'd know, right?  You've seen it all before."
"Ask Emmy.  I don't remember enough."
"He says he will.  I don't believe him.  He says it too much."
"Too much to mean it."
"I figure."
"Yeah.  I don't think Dad every threatened to go.  And Mum… Well."
The sun starts coming up in earnest.  The sky a mix of red and gold rose petals.  We sit there.  Liam and me.  We think about the future.
Picture credit/discredit:  writer's own work