True Stories (Part 1 of 2)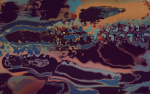 Sun, 21 Jun 2020
1 likes
The camera never lies.
Except for this camera. This camera is different.
#
I found the camera in a junk/antiques store. I wasn't even precisely in the market for a camera, I think I was more or less just browsing. And I was more or less on a sort-of-date with Adrian Vance. The camera was sitting amongst a random selection of junk, and I'm not sure what about it called to me from amidst the dusty teapots and mismatched crockery. I picked it up though, and inspected it from random angles as if I was some sort of connoisseur of such things.
"Fuck, that's old," said Adrian.
I gestured loosely towards the painted window – Elephios Antiques and Collectables.
"Does it still go?"
"Go?"
"Still work?"
"I guess, it doesn't have film in it."
"Film? Does that even exist anymore?"
"Yeah, you can still get it at photography shops and the like."
"You've got a phone, you know?"
"This is different." Though even I was wondering a bit at what made it different – I'm not sure that old adage about film cameras being better and sharper and clearer than digital still rings true these days, what with sky-high resolution, and high-end print jobs. And it's not like my phone didn't have a perfectly adequate selfie camera, or that I was a photographic artist who had any reason to need anything better.
All the same…
"Are you going to buy that?"
"I think so."
"Well, okay… I guess."
"I like it."
"New hobby then?"
"Maybe."
I'm not sure why I picked up the camera, or why I spent $80 on the thing, without even really knowing it would work – I mean it should, right, if they're selling it in a shop? – I suppose it was just a whim. Just one of those random things that you do sometimes. Or - knowing the camera better now - maybe there was a bit more to it. It's not like I really know.
#
But anyway. Fast forward a month. I'd broken up with Adrian Vance. It was never really going to work out. But my best friend Julia called me up a few days later. She said, "I know it's kind of bad timing, but you have to be the first to know. I haven't even called Mum yet. Danny's asked me to marry him!"
#
It occurred to me I could take wedding pictures with my new camera. Why not? I wasn't exactly missing Adrian, but I felt as if I needed a new direction in my life; a jumpstart, that sort of thing. So why not become a hobbyist photographer? I pictured myself running around all over the place, taking luscious photos of sunsets, entering competitions in the local paper, maybe even a little exhibition… It's true, I get carried away.
But I was going to need to practice.
So, I bought myself some film, figured out how to load it into the camera – I'm young, I've never done that before, I'm a child of the digital age, okay? – and got on the bus. My day-trip took me to a local picnic spot, where there were wild-flowers, and ducks – and ducklings this time of year – a river, blossoms, weeping willows. A smorgasbord of scenic wonder for me to test my camera out on.
So, I totally went to town on the landscape, snapping shots of birds and flowers and rippling water. There were a couple of kids playing frisbee with their dog, and I snapped that up as well. Some atmospheric shots of a picnic table as the sun was starting to go down. I reloaded film, took some more shots. The real expense is getting it developed, so Dad – who's old enough to remember using film cameras – informed me, but I was up to my third roll of film.
There was a boy sitting on one of the picnic tables, playing with a slightly older girl. They were using river pebble to play knucklebones, and there was just something so simple and wholesome about that scene that I used twelve or thirteen shots on the two of them. It only felt a bit weird after I was done. Taking photos of strangers' kids. But there'd just been something that'd captured my imagination. "Clucky" my grandmother would have said, her belief set in stone that I was going to grow out of this 'phase' of not wanting to have kids. I took a few more photos of the area, of the people in it. Then I remembered the last bus would be leaving in about five minutes, so I scampered for the bus stop, dropping by the only chemist in town that still developed film on my way home. Three days, they told me. I found myself oddly excited to see what these photos would be like when they came out.
#
Well, they were pretty weird. And kind of disturbing.
I mean some of them weren't. Some of them were quite normal. But then there were others that really weren't.  The first one I noticed was the big white daisy with a face at its centre. A human face. Just the dim scratchy outlines of one. And that you can dismiss, sure, a bit of a trick of the light, the angle. But then another, this one a huddle of mushrooms – but it looked as if some of them had been trampled under a heavy boot; and I didn't remember that having been the case in real life. And then a reddish tinge to the river; almost as if what was flowing over the rocks was diluted blood.
Sunset, I told myself, despite remembering clearly that it'd been hours before sunset when I took that shot.
The frisbee-chasing dog looked oddly wolf-like – a reddish-gold glint in his eyes; and a picture of a woman standing by a tree gave the impression that she was heavily pregnant – no, I'm sure I would have remembered if she had been.
And I know, I know, this is the point in a horror movie where everyone in the audience would be thinking at this woman: stop looking at the photos, put them down, step away from them. I've watched enough horror movies, spent enough time stuffing pop-corn into my mouth thinking: don't go into the haunted house. Don't look in the cursed mirror. Funny, how different it is when it's real life and the pictures are in your real hands.
And so, I kept flicking through them. A stop-motion horror show. What was that reaching out of the ground around that kid's sneaker?
That was when I should have stopped. But I didn't. I kept going. Coming to the series of pictures of those two kids. And look: they were endearing at first, more stop-motion animation, two innocents indulging in play, in each other's company. But. My hands hesitated on the photo. What was that behind them? Just a shadow or a darkening of a bit of sky. Just a shadow cast by that tree? But with each picture the shadow deepened a little. It took on a shape that became almost humanoid, except that it seemed to be draped in some sort of cloak or blanket. And it was never distinct, never more than a cobbling together of elements of the scene, a little less dismissible with each image, and yet…
I dropped the last photo when I came to it. I had to drop down to my hands and knees to pick it up. I could feel my heart-beat attacking me from inside. The little boy lying splayed across the picnic table, blood pooling in the cavity that had once been his chest, face freckled with the same blood, the same blood running over his sneaker and dripping down to the grass below the table. The girl in the same position as she had been, but her face now puckered in horror, her eyes wet with tears.
But this can't… this can't…
I mean, it wasn't possible. Somebody was playing a cruel joke, or something. Somebody had a warped sense of humour. Somebody… I couldn't stop staring at what I was holding, I felt sick and guilty, dirty, as if I was holding evidence of some terrible misdeed. As if the picture was proof of something I'd done.
He's fine, I told myself, this isn't real. This doesn't happen.
The photo stared back at me, refusing to fade to normality as I tried to stare it down, it's gory image in full flight. Oh, doesn't it? it might as well have been saying.
#
Well, you'd think after that I'd steer clear of that camera. That I'd bury it away in some cupboard or something and never touch it again. Burn all those photos, try to forget what I'd seen. And that's what I did to begin with. And at first whenever I walked near that cupboard, I felt as if my skin was on fire, as if I could feel the camera reaching out at me, trying to scratch me with red-heated metal claws. The wood felt like lava.
But it faded. It cooled.
And I guess over time, over the next four or five months the shock wore off a bit, and the daily acts of living ran interference for long enough that what I'd seen receded from my immediate thoughts. There's always milk to buy, appointments not to be late for, haircuts and dentist visits becoming due and then overdue.
And then one day, I just felt a bit curious.
In hindsight, sure: I hear you all – don't open the cupboard, don't pick up the cursed camera. But I did, didn't I? And it's not like it was softly calling my name or anything, or promising me treasures and talents, three wishes, the love of the world's hottest hunk. No, it was just a simple feeling, not unlike, I suppose, the whim that had made me buy it in the first place.
I was curious.
That's how I found myself in town, sitting at a table outside a café, across the road from a mall. I'm not quite sure how I justified it to myself at the time. Just take photos of things. No people. No kids. Just to see. Just, I guess, because I wanted to see these photos developed, see them normal, see some gaping proof that what had happened last time had been some aberration, some trick of my mind, some illusion. And so, I started with a crack in the pavement. And then with a pot plant. And then with the entrance to the mall. And I guess that's the point at which I realised I had already taken pictures of some people. And that gave me a weird confidence, a sense that the world hadn't ended. And so, I took more. And I moved along the street, capturing the bustle, delighting in the colours and atmosphere.
Before I knew it, I was at the end of the film.
I reloaded.
Reloaded – the way you would a gun. With bullets. A weapon.
Some guy walked up to me and asked me if I was with a newspaper or something.
"Just a new hobby," I said.
"Wow, that's really old-school."
"Is that a compliment?"
"Totally."
"Pose?" I said to him.
He leaned up against a lamppost, sporting a cheeky grin, and I took a couple of shots of him. "So, a career in modelling then? I've got it right?"
"Right," I said, "but you need to work on the hair."
"Brutal." He threw me a cheerful wave as he walked away from me.
#
I waited for the chemist to develop these suckers. I waited with baited breath. I was distracted. I was all thumbs at work. I was excited.
And when they came out these were no ordinary photos. Some were, of course, but then there were others:
The crack in the pavement glowed a little.
The pot-plant was sporting a collection of little flowers, bright-coloured and halfway out of bud.
There was a scene in the mall where a couple of women stood looking in the window and their reflections came back altered, their skin striped and patterned, their ears extended like Tolkienesque elves.
There was a scene where a rainbow ran through the mall's floor, looking halfway like a reflection, halfway like the flow of a curving, swooping river. In the same scene I saw a human hand seem to be growing out of a pillar outside the jewellers.
And I spent some time looking more closely at the photos I'd taken of that guy. I searched for abnormalities, couldn't find them. Just a person. Just a regular old human. But he certainly was good-looking. His quip about a modelling career hadn't been all that far-fetched. His hair was a little bit dated, but nothing a pair of scissors couldn't fix. And then: mmm-mmm.  I kinda wished I'd asked him for his number.
Picture credit/discredit: author's own work