True Stories (Part 2 or 2)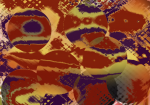 Sun, 21 Jun 2020
It took me a few days to work myself up to showing them to Julie.
We'd just finished a day of shopping and dress-fittings, and we were seated at a café, drinking lattes and eating cake. I took them out and showed her – the mall photos, even a couple from the picnic area. Not the ones of the children. Not those ones.
"Oh my God!" Julie exclaimed, hands actually snapping to her cheeks. "These are so cool!"
"It's not a trick," I said, "they came out of the camera this way."
"That's even cooler."
"This doesn't weird you out or anything?"
"Sure. But fuck: this is amazing."
"Well, yeah, but are they real? Are they…? I don't know. It doesn't make sense."
Julie was being ridiculously zen about this. "Not everything in the world makes sense. Your camera is just fucking cool. Isn't that enough?"
"I… I… Probably."
"And who's this?" She found the first picture of that guy.
"Dunno. Just some rando."
"He's pretty hot."
"I suppose."
"You suppose?"
"Okay, yes. He's pretty half-decent, in a not-that-bad-looking sort of a way."
"What's his name."
"Dunno."
"You don't know? You didn't ask?"
"I didn't ask."
"Or for his number, or his email? You know, so you can 'send him a copy'? What's up with you. You let that sail right under the bridge beneath your feet."
"Yeah," I had to admit it, "I kinda did pass up on an opportunity."
But then Julie said: "Well, you have to take pictures at my wedding."
"What?"
"With your camera."
"I don't know…"
"Those pictures would be so awesome."
"But…" And yet. I did want to. I actually really wanted to. I imagined the most incredible wedding photos ever. I imagined being a legend amongst my friends. And maybe a competition or two…. Perhaps a little exhibition… Wedding of the Fey Folk or something… My imagination leads me into more trouble than some guys' dicks.
"Go on." Julie was saying. "Please!"
And though I must have known deep down that the proper answer should have been "No, I don't think it's a good idea," the answer that came out of my mouth was a slightly breathless "okay, then."
#
And sure: I had reservations.
I had big ones. And I had sleepless nights. I told myself that this was what Julie wanted. And the camera was just being whimsical, being cute even. It didn't mean any harm.
Sound hollow? Of course. Even in my own head.
And yet I didn't want to disappoint her. A part of me – I think now – also didn't want to disappoint the camera.
I flip-flopped day to day between almost ringing her up and saying "no, I can't do it" and laughing that impulse off as just some paranoid, over-imaginative silliness.
To silence these clamouring inner demons, I did go out shopping and buy myself a modern, semi-high-end digital camera. With money I didn't strictly-speaking have. But the idea of it made me feel better. It shut-up that inner debate. As long as I had the new camera in the cupboard next to the old one, I would always have a choice. I could just tell Julie the other one was broken, and maybe she'd be a little disappointed, but she'd also be – and I know this is the word I did think – safe.
I ran into Adrian Vance leaving the store. I saw him too late to avoid the encounter.
He saw the box: "Hah! Returning the modern age."
"Yeah, something like that."
"Ooh, that's an expensive one."
"Yup."
"That new hobby must be really taking off then, huh?"
"Something like that."
"And now you're going to be doing it like a real person."
"Yup."
Now, why had a I ever gone out with Adrian to begin with?
#
The date was getting closer, and us girls were in full wedding mode. Julie – obviously – was beside herself with excitement. And I had to admit that I could see her point. Danny was a catch. He was pleasing to look at, he was funny, responsible, kind, thoughtful, a little bit whimsical and prone to forgetting things – we joked about his odds of remembering the wedding – but all-in-all a really great guy. She had every reason to be excited right now.
The dresses were made and were glittery and flattering, we had matched make-up and hairstyles all planned out. And we went out for an absolute powder-keg of a hen's night. I remember Julie up dancing on the table with her tiara on and glitter in her hair. Every guy in the bar wanted to get up and dance with her, sneak in a kiss or a grope – "last one before the big day, honey" – and honestly, she was lapping it up.
As we walked drunkenly towards the taxi stand, she flung her arm over my shoulder and leaned in close. "You're my best friend, Bethany. You're my absolute best friend and there's nothing in the world I wouldn't do for you, okay? Nothing in the… nothing in the world. You understand?"
"I understand how wasted you are."
"And you know that I mean it. You know I do."
I did.
#
So, although it was two in the morning, I sat up that night, flicking through my collection of mall photos. I wasn't sure what I'd really expected them to tell me; but the actual messages were chilling. These photos had changed. There was no subtlety about it, there was no fading of memory from what I'd originally seen. No, these photos were changed:
A crack in the pavement didn't glow anymore, it was oozing blood.
A pot-plant grew only dead flowers, rotting and blackening.
The women looking at a window display were reflected differently, the glamour of elves now replaced with a horror that mish-mashed demons with trolls and troglodytes, faces that were fanged and melting, fur growing out of their mouths like aggressive mould.
The rainbow flowing over the floor was a thick, ugly bloodstain. The hand in the pillar had claws. And below it a human shape, with a screaming face, was deeply embedded. Swallowed, captured, struggling helplessly against polished stone.
And the picture of the would-be-male-model was ugly. He was aged and grey, with sagging jowls, a few teeth missing, his eyes all puckered and watery, his nose big and knobbly. And there was something… his smile wasn't cheeky anymore; it was dead and vacuous and somehow horrified.
Right! I threw those images down on the bed. Enough was enough. This isn't happening. I made a decision I could finally feel full confidence in – I was taking the digital camera to the wedding and that was that. I would tell Julie that the other one was broken. And maybe one day I would tell her the rest of the story, some day when I wouldn't ruin her big day. And she'd see why I had to do what I did. She'd get it. We'd burn the photos together, and that savage camera would never again see the light of day.
That's how things should have gone.
#
But I walked into the church with the other camera. The bad one.
How?
It seems so implausible: too important to be an oversight. Yes, they were right next to each other. I had things on my mind, for sure, and I might have somehow managed to be running a little bit late. Even so. Even fully accounting… No. There had to be more to it. Some other will beside mine that guided my hands and blinded me to what I'd done until Julie exclaimed: "You did bring it! I wasn't sure you would."
Oh fuck, I thought, but managed to keep the words off my tongue.
I tell myself that it was too late to back out. I was cornered, and so I just had to go with the flow. I can't imagine I really, deep-down believed it. Just a failing of moral courage? But that's not what I feel when I touch those bladed memories: no, there was a tinge of joy, there was fear mixed with an ugly, metallic relief. There was something like desire – like I was almost horny for the chance to play with that camera again.
Camera-the-Liar.
Camera-the-Dark-hearted-and-Cursed.
But I took photos. I had film with me, in the little pouch that attached to the camera, and I went through it all. I had some more – it turned out – in the bottom of my handbag, and so I went through that as well.
"Old school," said somebody's granddad, "I love it."
"Yeah," I said, hardly hearing myself speak, "that digital nonsense just isn't the same."
#
The days of agony waiting for the photos to come back, days that bit my fingernails to bloody, that crippled me with stomach aches. I was thinking all over myself, what have I done? What I have done? Until one day I woke up and thought: but nothing's happened, has it? Nothing's actually gone wrong. All the weirdness and darkness showing up in those photos; but none of it had spilled over into real life. I felt all this tension I could barely have stood another day of pouring off me, evaporating in a new sunshine. I was ready to believe that I was going to be okay, perhaps just because I couldn't take the weight anymore of not feeling that way.
I enjoyed a day, worked productively, enjoyed a lunch overlooking the park.
I was kind of relaxed – almost – when I went to pick up those photos.
Until I saw them.
Some were normal. Most were normal. And there were a handful that were playful, where the camera had changed the colours on outfits, thrown clever patterns into fabric where they hadn't existed before. Swapped around a few heads. Made the icing-roses on the wedding cake real and blooming. Thrown fairy-dust into the air. I could show Julie these. She'd love them, she'd be grateful and…
Then there were these ones: Julie and Danny together. But there wasn't happiness in these ones. There was Julie with her eyes full of tears. Julie with her lip split. Danny with his hands tensed into claws, his face red with fury, his mouth open in torrent of angry words. Photos to follow where she mirrored his pose. A tender photo of the two of them cutting the cake. And then a photo that came from nowhere: the whole background changed. The whole scene, the outfits. The only thing unchanged was the knife, and Danny was pointing it at Julie with a cold, vicious sneer warping his otherwise gentle face.
Danny. Gentle, unassuming, unflappable Danny.
It was absurd. It was an absurd, cruel joke, played by a nasty camera with a vicious sense of humour. I shoved that thing back in the cupboard, along with the photos that no-one should ever have to see. I sorted the others – some for the album, some to show only to Julie.
And I suppose I waited, not sure what was going to come next.
#
And honestly, for nearly a year, nothing came next.
I got on with my life. So did Julie.
Danny got a job that meant leaving town; we threw them a goodbye party and Julie made me promise I was going to visit her. I made her promise to come back often and whenever she could. To tell me everything. To keep in touch. To let me know right away if any kids were on the way.
"Not unless that implant fails," she said cheerfully.
#
It was about six months after that that I read in the paper about the boy.
It turns out his name was Peter Loth. He was seven years old now, but he hardly looked any different from that day at the picnic site. I recognised his sister too. And online I recognised a leaked crime-scene photo. It was hard not to recognise it; the similarity was perfect. A coffee-table, not a picnic table, but he was sprawled there in just the same position, his chest bloody and broken where his uncle had stabbed him, the blood spattered on his face, more of it trickling down his leg, over his sneaker, onto the carpet.
That was what I'd taken. That photo. I rushed to the cupboard and pulled them all out, flicking through the collection until I came to the one. An exact match. You could overlay them. A perfect, tracing-paper match. And as I looked at the shadow in the preceding shots, I could see a similarity there too: the mugshot photo of the arrested uncle. In spite of the shadows, the trickery-cloak, the haziness: there was no worming out of that likeness, it was the same face, it was an image of the same man.
I had no idea what to do.
And then I did.
#
I drove through the night to get to Julie.
I'm not even sure I knew what was going on it my head. It was all so nuts. And the radio was blasting out tunes I didn't know, a station I'd tuned to at random. The night felt painfully dark, and there was little on the road except hulking milk and fuel tankers that looked like monsters in my eyes. All I could think about was that last photo, that last bridal shot that hadn't been a bridal shot at all. That one I'd never shared with her, never warned hear about.
And yet, Danny…
Danny…
That was part of what was nuts, because this was surely impossible, and surely ridiculous, not the kind of thing that could or would happen. Because Danny… Danny…
Never in a million years.
But I was driving, wasn't I? I was heading straight there.
I had no idea what to say as I knocked on the door, no idea how to convince her. It was 4am, and there was every chance that Danny would answer and not Julie, and I would have to work out what I was going to say to him. And there was every other chance they were going to hear this cacophony on their doorstep in the middle of the night and they were just going to do the sensible thing and call the cops. But instead, Julie answered.
She was standing there in her dressing gown, her eyes widening at the sight of me: "Bethany?"
Behind her I could see a lounge. And it was that room. That background. I could have held up that incriminating photo right next to it and seen the perfect match. I could have, literally, because I had the thing in my handbag in the hope that maybe it would convince her of what my garbled protests probably wouldn't. I was gaping at the lounge, utterly and absolutely lost for words.
"Bethany, what is it?"
Still nothing. My tongue froze against the bottom of my mouth.
"Has something happened?"
"Not yet." I mumbled.
"Huh?"
"I…"
"Do you want come in?"
"No."
She reached to put her hands on my shoulders. "Bethany, honey? What's going on?"
"I've come to get you out of here," is what I ended up saying.
She stared at me hard, somewhere between concerned and confused. After a few seconds of chewy, complicated silence, she said quietly, "okay."
#
On the road she told me about how she couldn't understand it, about how her Danny had always been the sweetest man. How the changes had been so subtle at first, had seemed like nothing or next to nothing, but over time had gotten more sinister. She wondered if the new job was partly to blame – it was long hours and high pressure, and hadn't turned out to be what he was expecting. And perhaps that had flowed into their marriage, and maybe she hadn't been the wife she should have been. Not understanding enough. And she'd dished it out as much as she'd taken it in those early arguments. Until he'd started using his fists.
"He was never like that though. Not ever. We all knew him, and nobody ever, never…" she tried not to cry but she couldn't help herself.
We pulled into a café in a small town and ordered pancakes for breakfast. The sun was just beginning to come up. Julie ate in silence for a while and then looked up at me. "Bethany, how did you know?"
#
I broke that camera. I took a shovel to it, hauled it out in the garden and just brought the head of that shovel down on it over and over again until there was nothing but shrapnel, until there was nothing left at all. And when I was finished with that, I still buried it in three separate graves, and kept aside some pieces to throw in the rubbish. I got out all those old photos, the whole damn lot of them and I burned them. I called Julie and made sure she burned all her copies of even the innocent ones. I felt as if I couldn't breath until the deed was done.
And afterwards, I just felt numb, as if I couldn't believe what had actually happened.
Some people might conclude that this camera was brutally honest, that it was maybe even kind, that it had predicted the future and maybe it had tried to warn me. Well, let me tell you, I am not buying any of that. I'm calling a big steaming heap of bullshit on that one. I don't think that camera told the truth, I think it twisted the truth. I think it turned those futures into reality. A loving uncle. A gentle husband. I think it changed them. I don't suppose I'll ever know if blood flowed in that mall, or if a random woman was pregnant and how her baby turned out – I could have nightmares about that if I wanted to but I won't – and who knows if a friendly, beloved doggy went psycho on its owners. The only ones I know for sure are Danny, and Peter's uncle. And I still believe they were innocent, they were victims of that camera, of that cursed, malicious, bloodthirsty object.
And I'll believe that for the rest of my life.
But screw you, Camera.  You're in a million pieces now, and you're never going to hurt anybody again. Stick that in your zoom lens and smoke it.
Picture credit/discredit: author's own work