9 the Broadway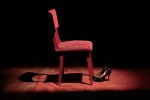 Sat, 08 Apr 2017
2 likes
Brooke couldn't believe it. It was difficult to believe that she'd walked into a lamppost.  That only happened in comedy fiction, and Brooke's life was not comedy fiction.
When she arrived at rehearsals, she was asked about the bruise on her forehead.  She was embarrassed about walking into the lamppost, but she couldn't think of anything else to say on the spot. She explained the lamppost tale and everyone except Ryan laughed.
            'You weren't struck by some brute?' he asked.
            'No,' she said. 'I really did walk into a lamppost. 
Ryan was always on the lookout for hints of domestic abuse among the younger girls in case he had to spring into action.
Brooke enjoyed Ryan's protectiveness, but the truth of it was she had walked into a lamppost. Her life was not dramatic enough for domestic abuse.
Brooke's life was not drama.