Look There, On The Rocks Part 2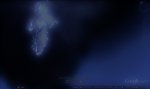 Tue, 09 Dec 2014
As Lucy focused her attention on the larger bird, she noticed it was actually moving in a fluttery way, wriggling, almost as though it was shivering with the cold.  These shakes began to increase, disturbingly so, and there were gasps from all the passengers when it fell seemingly dead from its stoop and splashed into the sea.  A twenty foot drop at least.
'The poor thing,' cried a lady.
'Oh, that's terrible,' said another.
'We should get the body,' shouted Gabriel.  'It might be a rare one.  People will be interested.'
'Perhaps,' said the captain, a little reluctant.
'If it's really rare, it might be worth money.. . and some media attention.'
'That's terrible,' said an older woman, the one who had said That's terrible before, her silent husband nodding in endorsing disapproval.
'Swing around, Cap,' said Gabriel.
'We'll take a look,' said Captain Merlin.
The Kay Two chugged leisurely to the area where the bird had fallen. 
'I don't want to see a dead puffin,' protested the young girl who had first spotted the birds. 
'Don't worry, sweetie,' said her other half.  'It might not be a puffin.' 
'It'll still be dead though whatever it is.' 
When the Kay Two eventually reached the bird, it looked like a crumpled old leather jacket someone had dumped in the sea.  As the boat moved in closer, Gabriel stretched his arms out further.  It still looked big on closer inspection, but maybe not as huge as they'd first thought when they saw it perched on the ledge. 
'Well, is it a puffin or not?' someone asked.
'Get closer in,' Gabriel yelled to Captain Merlin.  'I can't reach it.'
'Be careful you don't fall over,' said the captain.
'I can reach it.....is there a big stick or something I can use?'
'Be careful there,' said the captain once more, but by then it was too late.  Gabriel had been  stretching so far out that he slipped over the edge of the boat and flopped into the water.  Ironically Lucy had at that moment been picturing him falling over in a private revenge fantasy.  Maybe she had willed it.  Who knows?
Gabriel splashed around frantically looking for the bird, but it wasn't there.  Soon after, he realised he couldn't swim so well and started struggling to get back on the boat.  Lucy was the first to stretch out her hand, but as she did, he was suddenly sucked under.  Maybe it was the current.  Maybe Jaws.  Maybe a Russian sub.  Who knew what lay waiting in the depths of the devilish North Atlantic?
'Where'd he go?' asked Captain Merlin, still at the wheel.
'He's away under,' someone said.
Shocked insecure expressions, yet nobody on the boat was moved enough to help.   Lucy thought of her last swimming experience.  Three swims up and down the local 20 metre pool, only stopping twice.  She'd done alright.  Could she possibly be the one to jump in and save that asshole?  They were all soaking wet anyway from the consistent spatter of sea and rain, so she would just get a bit wetter.
'Oh, okay,' Lucy said, resignedly, when there didn't appear to be any intention of rescuing him showing in the faces of the other passengers.
A bunch of puffins had gathered on the cliffs to get a better view of things as Lucy carefully lobbed herself over the side.  She lowered herself into the water and eventually broke away, plunging into the freezing unknown.  She immediately felt she would die of the cold and that Gabriel was probably already dead from it.  Luckily, he was thrashing away underneath not far from the Kay Two, struggling to get a grip of the water as though it was something you could grab hold of. 
Many shapes washed over her in the underwater gloom.  Clumps of moss and grit swirled in a chalky mess, crystal froth and fizzle appearing like lonesome eyeballs expanding and vanishing.  Bizarre creatures of the deep forming in the ghoulish vapour and passing by like ghost train dummies as she crawled toward an hysterical Gabriel.  In the dusty space around her, she thought she glimpsed the fallen bird, come to life again, gliding slowly in a gleaming ball of light, then suddenly shooting downwards into the profound insides of the ocean like it had something very urgent to be getting on with down there.  The mind plays tricks on you in the stark places of the world.
It wasn't long before she reached Gabriel and pushed him up to the surface.  There were cheers and applause from the boat and some puffins high-fived with their beaks as Lucy guided him back to safety.
A tall young guy had come out of the engine room to help.  He'd been stuck in there all the time and didn't know what was happening out on the deck.  Nobody had clapped eyes on him until now.  One of the old ladies nearly had a heart-attack when she saw him.  'Good God,' she cried.  The engine boy was quite strong and he was able to wrench both Gabriel and Lucy out of the water without hassle.  They were both given towels and taken to the doorway of the engine room to get more heat.  Gabriel's face was white.  In a bony anaemic voice, and extending very little in the way of eye contact, he told Lucy 'Thanks'.
Nobody on the boat had batted an eyelid about Lucy before the incident, apart from Gabriel before he approached her, but now she was the talk of their little floating and fleeting community.  She had caused quite a stir.  A valid hero.  Like Xena the warrior princess or something.
'You're a wonderful girl, doing that,' said an old lady, coming up to Lucy as she stood shivering in her towel.  'My husband didn't do a thing, and him and his John Wayne films.......'
'I'm 78 years old,' the husband retorted, rushing to his own defence with a verbal sprightliness.
'Yeah, 78 years watching John Wayne do all the dirty work.' The lady turned to Lucy again.  'Here love,' she said, producing a small half-empty bottle of dark rum.  'Have a snifter on me.  That'll warm you up.'
Captain Merlin grunted with some relief as he turned his ship around to make the journey back to base.  The Kay Two also joined in the relief, releasing heavy blows of steam which bellowed loudly and decisively into the air.  As Lucy was being praised and celebrated by the others, she looked back at the island moving away from them.  It would soon just be a postcard again.  The puffins too.  Though before they were amputated from her life entirely, she saw one flying down from a higher ridge.  It flapped its wings so rapidly and juddered around in the wind so much as it flew that she thought there would be another accident and another one in the ocean.  But for every limp descent, there was a brave surge.  This little puffin seemed to know what it was doing.  It landed sloppily on the nearest rock fading from their sights and stared directly at Lucy as though it was saying goodbye to her.  Actually it had simply forgotten its destination mid-flight and just stopped on the rock to see if it could remember, but that didn't matter.  Not to Lucy, who waved bye anyway.
 By the time the Kay Two returned to dock, the weather had soothed considerably.  The day had been liberated of its dullness and was now reborn unstained, clean air and quiet breeze.  The passengers offered goodbyes to Captain Merlin and the tall engine boy and then to each other before they set foot on the rock-steady mainland once more.  They all had to take a moment to shake off their feeling of sea-woozy.  Except Lucy.  She held onto her wooziness.  And it was quite a wooziness.  Made more so by the rum and rescue.
Then she noticed Eddie.
He was waiting for her at the harbour reading a newspaper.  She thought in that instant to disguise her unsteadiness in front of him, to hide herself and the day's events from him, but there wasn't much point.  She kept on as she was.  Eddie glanced up at her as she drew near and looked down at his watch, suggesting tacit scolding, and then he went back to his newspaper as she meandered woozily past him without saying a single word. 
Back on the island, the puffins rubbed their beaks together and chatted excitedly amongst themselves about what might happen tomorrow when the fog cracked.