Prayer For The Birds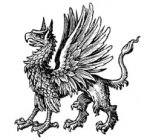 Sun, 04 Aug 2019
1 likes
As Littlewood steered Dolores away from Jan Mayen in a north-easterly direction, and the volcanic isle left their sights, they became aware that a large bird was flying overhead, its wingspan so broad and movement so languid it could have been a small plane.  It seemed to be travelling at the same speed and in the same direction as them. 
'That's very strange,' said Stinson.  'Is it following us?'
'I hope so,' said Masterson.  'It would be nice to have some intellectual company for a change.'  
A dollop of green shit landed splat on Mrs. Juhl's coffin just missing Katrine who had taken to sitting on her mother's coffin regularly.  She looked up and saw the bird.  She scoffed at it.  Even a bird of that size with such massive firepower at its disposal would never get her; they always missed in the end, though they kept on trying, the flapping fools.
Captain Littlewood was studying maps hysterically in the cockpit, shambolic crumpled paper everywhere, when he noticed his passengers out on deck looking upwards at something in the air.  He leaned over the wheel and had a look for himself.  It was hovering about twenty feet above them, a big eagle-like bird with rough dark-wood feathers and an indignant arrow of a beak.  He realised it had begun a slow dive as its size was fast increasing.  5....6....7....8 metres.  What a giant.  Littlewood reached under the wheel.  Inside the cupboard, beside the bottles of Redbreast and the used flowerpots, was Grimur's bag of gifts.
'That's some creature,' said Father Geissel.  'I've never seen the like of it.'
'It's no budgie,' said Masterson.
'I wonder if it's in need of help.  You know, like when a stray dog follows you home....'
'But we're not going home.'
The creature soon halted its descent, stopped, and hung in mid-air where it stared down at Dolores for some time.  Tension grew on the boat below.  The bird's talons were enormous and frightening.  Like none on a bird any of them had ever seen or imagined.  Then those huge wings widened and it let out a horrendous deafening screech in the bird language of war. 
'Oh shit,' said Katrine.  She was so agitated that she slipped on her mother's coffin and her left hand accidentally made contact with the bird's sticky green droppings.
The bird swooped down suddenly and attacked Dolores Costello; its claws scraped over the roof of the cockpit pulling strips of wood out of it.  Father Geissel was the first to come within the fearsome bird's reach.  A flying claw managed to scratch his arm and he fell hard.  Walter and Stinson rushed to help the elder priest but they were so witless scared themselves that they just lay on top of his fallen body to keep their own heads out of harm's way.     
Katrine was nearest to the hatch so she was able to slip through it and get into the cabin safely where she put the kettle on while the others stayed out on the upper deck trapped and interned.  Masterson meanwhile turned his heavy overcoat into a tent, sat under it, and started doubting his previously considered spiritual connection with the wild things.   In this improvised tent, Masterson listened with his nerves braced to the chaotic sounds from outside: the relentless squawk of the bird and the flap-flap-flap of its wings; the grimace of Stinson and the maimed Geissel whispering, 'Oh, lord, oh, lord, oh, lord.'  Then he heard the click-click of a firearm loading.  He peered from under his coat and saw Littlewood striding across the deck with a pistol trained.  Masterson threw off his cover and said, 'Thanks be to Jesus.'   
The bird had landed on the old maintenance box at the boat's stern and was staring down Littlewood's aimed barrel; the attacker appeared outwardly unaffected by the threat of bullets.   
'What kind of animal is it?' asked Masterson.
'A gryphon,' Littlewood replied.
'Get the fuck, ya madman.'
Littlewood took a deep breath and fired two shots; the first strayed off into the sky and pierced all layers of atmosphere before disappearing in the space outside the world; but the second thumped right into the bird's chest and there was a horror-laden scream and a whirl of feathers.  The bird was not yet dead, but it sure was injured badly.  They watched it limp-fly some yards out to sea crying in pain. 
'Poor thing,' said Stinson, blessing himself.
The humbled assailant finally dropped from the sky and plummeted poetically to the depths of the sea.
'Poor thing?' said Masterson.  'Are you nuts?  Could have killed us all.'
'How are you, Father?' Littlewood asked the wounded career priest.
'I'm okay, I think.  I took a bit of a gash to the arm.'
'We'll get you some first aid now.'
'You know, your daddy was right,' Geissel said to Littlewood.  'The sea has it in for us all.'
Katrine's voice was then heard calling up from below: 'Who's for tea and who's for coffee?'