Breaking the Code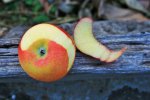 Fri, 14 Aug 2015
It was the summer of 1963.  The Stones were in the all-important charts with Little Red Rooster.  It was banned, by my dad, in our house.  'Sexual undertones', he reckoned.  I reckoned he just had a dirty mind.  I was almost sixteen.  
One Sunday afternoon, this chap I knew, drove us from Croydon to Brighton in his bottle-green, MGB GT V8 – hired a speedboat off the pier.  He was at least five years older than me; believe it or not, my very first date.  Painfully shy – that was me.  We got on like the proverbial house on fire.  A friend of my sister's husband; worked in Burtons – bespoke suit department.  He was a 'queer' or a 'fag', as they called them then.  I'd have called him gentle, considerate, caring – nice.  We had an ice-cream by the dodgems; his was pink, mine was white.
On the way back we dropped in on his folk; couldn't do enough to make us welcome. Him with me; an actual girl.  They couldn't believe their luck; maybe he was 'normal' after all. There was cake, Arctic Roll and tinned salmon for tea, then he drove me home. Stopped off for a break – shared a smoke on Gibbet Hill; watched a mist that slowly rose to fill The Devil's Punchbowl. His name escapes me, but it's not important. It was how we were, then, that was.  
He didn't expect nor want anything from me, and vice versa, and the knowing wherever it was we were going, we'd get there, and even if it if rained we wouldn't get wet.  Rain wasn't wet.  Not way back then, when breaking the moral code... loving the wrong person could make you a criminal...when smiling at someone in the park could lead to arrest, and being in the wrong address book, a prison sentence. 
For at least one, though, it meant paying the ultimate price...a bite of the forbidden fruit, as deadly as the hangman's noose.