Dear Darling...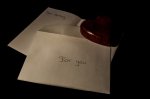 Mon, 01 Sep 2014
Please excuse my writing;
I can't stop my hands from shaking
'cause I'm cold and alone tonight
Olly Murs
I didn't think you'd leave...not that evening.
Not that soon. Couldn't you have held on;
waited until I was there?
Why the haste? Why then? Why not 
the next afternoon?  I'd planned to be there
with it being New Year's Day.
It didn't have to be that night to the backdrop
of fireworks in other people's gardens,
in other people's lives.
Why weren't the champagne corks popping
where you were?  Why no Bollinger...
why no posh crystal glasses?
Why did water and a hospice plastic cup suffice?
Like those times, as a child, you'd cry out in the night...
either you, or she...
and I'd creep to your bedroom, sit on the edge
of your bed, reach through the darkness,
with the drink you were dying for,
or so you said.
At the end...why was it her hand you held?
Why your sister's, not mine...and why,
am I asking you why...and not myself?