Moving On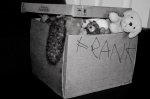 Sat, 30 May 2015
All that 'stuff', squirreled over the years...
gathering dust in the attic; 
time to pack it all up in a cardboard box...
time for moving on.
Christmas tree baubles – some shine like gold.
Others – broken, or tarnished; a Bakelite monkey 
sans tail.  Throw them away?  No, never.
A stash of letters – postmarked Southampton, 
tied with a blue, satin bow; that three week course, 
seemed like three years, he went on – aeons ago, 
when he and I were seventeen...
Birthday cards – bought and unwritten; 
pretty pictures, nowhere to go.
A pile of sheet music – Debussy's 'Clair de Lune'...
'Girl with the Flaxen Hair', and she did have –
that beautiful daughter, mine...
the one who played it, all of the time...
a sprig of dried olive leaves from that place,
wherein beneath, she soundly sleeps.
Time to pack it all up, in a cardboard box...
time for moving on...or so we try
to kid ourselves.