New Beginnings (IP)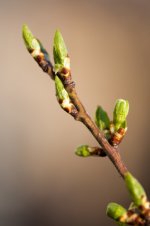 Sun, 13 Mar 2016
It was ever Christmas in Gran's kitchen –
painted gloss-green.  The slip and the slap
of the spoon in the jam-pan...the saucer
on the sill – the acid test as to whether
or not the jam had set. My sister and me
sat, frantically sewing. 'Our gymslips –
torn on the brambles,' we told her, but
we lied.  We were making them shorter
by a mile, hoping she'd turn a blind eye.
'Boy crazy', that was us.  'Ormoans'
Gran put it down to, whatever they were.
One time sticks in my mind, we'd had
Toad-in-the-Hole for us teas that night,
and red-currant pie with lashings of juice
we daubed on our lips...then did a runner 
outside. We fancied him rotten, the boy
lived next door, and he'd just vroomed in 
on his new Yamaha. No doubt about it –
we'd both knocked him dead with our
Rebel Red , man-hungry mouths. And then
he gave us a look – on reflection meant, 
'Get lost, jail bait; you and those lips.  
Come back when you grow into them'.
Oh, but we did, right there and then. 
Was the start of the rest of our unfettered, 
couldn't be bettered, beautiful, young lives.