"Oh, It's a Lovely War!"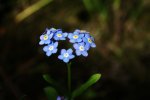 Sun, 01 Jun 2014
Village girls in gingham frocks,
farmers in their Sunday smocks,
trestle tables lined with cloths,
and bunches of forget-me-nots
festoon the old, oak rafters.
A fiddler plays The Twelfth Street Rag,
wives and husbands clap their hands,
kissing couples make their plans
for the reading of their wedding banns
and happy-ever-afters.
Too soon they hear the cockerel crow;
morning breaks – the night has flown.
It seems the boys to men have grown
as each puts on their soldiers' clothes
in a bid to save Old Blighty.
The sweethearts wave, and say goodbye,
the children ask their elders, Why?
For King and country, some reply
as into battle – brave they ride,
bayonets at the ready.
For miles and miles the trenches stretched,
the summer – cold, and hellish wet; 
in mud they wallowed – to their necks,
in mud they fought and ate and slept,
and Sir Douglas Haig thought on.
Their trusted steeds left far behind,
for tanks and planes marked modern times;
in Passchendaele at Ypres they died –
five hundred thousand at their side,
as many asked, What for?
On mouldering soil a father weeps,
a mother cries herself to sleep;
bells ring hollow chimes of peace,
forget-me-nots of memories, sweet,
lay – heavy on a coffin.