Cough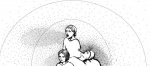 Wed, 15 Dec 2021
3 likes
When the cough came it was as dry and raspy, as earth-shattering and bony, as profoundly disturbing and fauxly-suppressed as we knew it would be. When the cough came it was not even a flicker off the previous cough's cough -- we were not given a tinker's tail's notice -- a cough so equally dry and persistent, so destructive and seemingly endless rickety and fragmented, so devoid of pattern and meaning and possessing of that infernal rat-a-tat-tat-like quality that these coughs tended so often to be possessed of, coughs then that seemed to exist as pure totems of selfishness, that we barely found ourselves space to breathe.
We knew how the cough came because we had heard it before. We had been so indefinitely exposed and held up to the sheer brazen intrusiveness of the cough, we had heard it so frequently, far too much for us to remember precisely when it ever ceased to be fair to be always and constantly hearing it, that there was never a possibility that the next cough, the oncoming outthrust, could ever strike us as anything but a mundane bastard foregone conclusion. But that wasn't the least of the ways in which we perceived it -- this inveterate cough -- since we had been exposed to its other qualities, its bumpy gurning vibrations, its rumblings and groanings, its steady motoring, and if we hadn't been so full of practical common sense we might have misconceived an inkling that we could actually reach out towards it and get a grip on the cough. 
When the cough came it broke the silence. The cough was endless. When the cough came it was only a blip in a sequence of continuous coughs that we knew couldn't falter. The more we wanted the end of the cough, the longer it continued. But any apathy towards the cough, any incertitude or ambivalence, any momentary forgetting of it, didn't tend towards the opposite; that's to say that the cough would soldier on whatever your state of mind or proclivity towards it. It did not lose ground by virtue of you ignoring it. It would continue and run through. Although you had, or might have, completely forgotten about the cough, though you were almightily oblivious to it, though you had needed to make no effort for it now to have passed completely out of your consciousness, this had no bearing whatsoever on the integrity and power of the full extant cough, the cough's right to self-determination, its rigidity its structures its tenacity and relentless force, the cough was there whether you knew it or not. 
It was only a matter of seconds then if you had been blessed with unconsciousness for it to drift back to your innocent earshot and then the previous moments of obliviousness were in no way heralded as blessings or moments of solace, welcome cough-free respites, there was no feeling of thankfulness that you had experienced the closeted sanctity of being not worn down by the cough, the more the cough seeped out of your awareness, the worse it got when it came full-thrust back in. And it didn't even necessarily come back full pelt. 
At any one time, after the last cough had finished, the next cough tended to start back up 'normally'. That is to say: there was neither a tendency towards gradual reintroduction, nor was there a sense that it came back in with a bang. It certainly did not take you by surprise. You knew that when the cough had started up that it was the cough, the exact cough you were afraid of, and that you knew it and known you had always known it, you had known it was coming and had been so knowing, and that you knew exactly what the cough was like and this cough was exactly like the last one in timbre and tone, in force of breath emitted, in its resonance and exactly in the profundo and the frequency, it was undeniably the cough as you knew it, as soon as the cough started up again, it was as if, no it was exactly that you knew the cough in all its intimate detail and the cough had not disappointed, it had followed strictures to the letter, it had not derogated nor demurred, and the very most terrifying, most awful, most bone-shatteringly disturbing and frustrating element of the damned insidious cough was precisely this, that it was always exactly and unremittingly the same and that you could predict it. 
In this way the cough was merely a confirmation of your conception of the cough or, to put it differently, your thought preceded the cough and the cough added shape to it. Sometimes but not often, but also not unduly infrequently, the cough would come hand-in-hand with an after-cough, a dribble of a cough, a flutter of outward spluttering, a semi-cough, about which after-cough there was this sense of parade, of standing on ceremony, this cough-cadenza was the most superfluous and so the most bitingly annoying aspect of the cough as whole, since it was the very part of the cough that made it relentlessly clear that the cough was highly unnecessary, that the cough was just symptomatic of a wider urge or need, itself symptomatic that something was needed, was off-kilter, was incomplete, itself merely calling time on the fact that something needed to be done here in this world of appearances, before we could all sit in peace and tranquillity, before we could enjoy our time as this proliferation of cells, as just blood pumping haplessly through veins. 
Whether or not the after-cough came, you knew all of the above. You did not need the cough to be marked by its finish to be reminded of the desperate needlessness of the cough, to have it unambiguously and constantly reinforced to your awareness that the cough was mercenary and meaningless, futile and pointless that the only thing it really appeared to do was annoy. And then the most persistent inexorable thing about the cough was that you could not single it out to the person who had coughed it. The cough affected us all. The cough was the cough of each and every last child father and vicar, and it was precisely this coupled with the difficulty of seeing how it was thus that made the cough even more pernicious than it was just by virtue of being itself, and you might find yourself suddenly confronted by the bellicose bursts of a fore-cough, knowing that this cough was your cough too, and if it wasn't exactly your cough, then you were responsible for it, because if something was not right with the world because of the cough, -- which it certainly damn wasn't -- then you couldn't divorce yourself from life and the world, you couldn't as an example tell the cougher to 'shut the fuck up' or just hold off on the coughing a second there man, because your wife was, say, just about to bear your first child, since the cough was not a momentary intrusion on your personal space it was a clarion call, a crest for the stricken and you were part of the stricken by the very fact that you existed and this could not extricate yourself from or deny.  
By the very number of coughs that had proceeded you might think the cough would have died down by now. By the sheer volume of body-wrenching coughs. Could the cough not cough itself out ever, for once and for all? There can perhaps be cough intermissions, the cough could recede for several moments put together; for much of a lifetime, yes, there might well be no cough. But the cough will come back in. It is in its nature to persist, to stop, to come back, to stop again to come back, yes, to take you by surprise with its relentless consistency.