Chasing Memories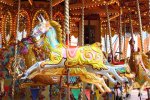 Wed, 19 Dec 2018
1 likes
I'm smiling like one of those
Carousel horses enjoying the
Endless ride, while looking
Back on moments in my life.
Don't mind chasing memories...
In fact cravings for those who rode
With me are deep-rooted. Music plays
Endlessly each tune conjuring a time;
Illuminating friendships as sound of
Fairground attractions bring hubbub
Of noise exciting – stimulating...even
If a bit blurred with age,
Adventures sometimes risky meeting
Adversary along the way, bought
Wisdom which now guides me as on
The ride of life I grow older each day.
Picture from pixabay free images.