Claustrophobia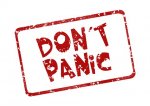 Tue, 24 Oct 2017
Image from pixabay free
His eyes wander not surprising
this gathering increasing,
apologizes for his intrusion,
still no eye to eye contact,
his energy seems troubled, trying
my best to understand. He urges,
"Would you mind coming outside,
think I've lost my sense of reasoning,"
Everything's been said, "breathe deeply."
He snakes his arm around my waist,
flinching I feel his bad energy...
he knows, apologizes – removes his anxiety.
What to do? How to proceed?
Feeling a hand reaching for mine,
squeezing so tightly he starts to panic
though a man his inner child escapes,
trying my best to understand as bodies
crammed, we shuffle like penguins – air
pungent; as he tormented in his misery
is unaware of the deafening jabbering,
My lips move, but no voice comes,
Then "It'll be fine...nearly there."
Breeze beckons, a door opens,
at last outside we both breathe.