Do You Remember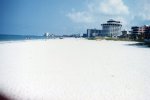 Thu, 09 Jun 2016
Do you remember the serene pace of life
enjoying every day in our Florida paradise?
Feelings of rejuvenation as we wandered
miles and miles of soft – white; velvet sand,
palette of sky through tinted shades
casts deepness of rich sapphire blue;
sun's warmth gives rise to radiance of
iridescent, aquamarine surface hue,
Remember beach combing after a wild storm,
searching for treasures washed up on the shore?
Discovering all matter of sea life now sadly gone,
but! For a while we're digressed from labors long.
Then we headed to the beach bar with a Texan named Jim,
drinking beer with sand in our toes, sharing in his stories
of life on the Ocean, the creatures he'd seen when snorkeling,
with his never ending humor that had me in stitches laughing,
later in the evening listening to yet another brilliant tribute band,
dancing the night away...not a care in the world but a drink in hand;
then sauntering back along the beach to our hotel illuminated by light,
sultry...we succumbed to just one last drink and a long kiss goodnight.