Jazz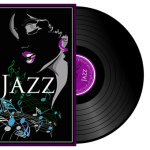 Thu, 08 Aug 2019
Love to trip those violet sounds...so much music transcending,
chance of energy taking hold divine...thousand notes intermingle;
stirring emotional growth, pitch perfect in that relaxed moment,
I'm gripped by blended fusion whispering of past impressions...
another time and place, melange quite elusive, but somehow I
know deep inside conclusive.
Drifting down years of brief encounters, captured in cells of
brain...that sensual art crosses every nostalgic bridge between
fragile rainbows that gradually fade.
Yet! I subconsciously listen and wonder with patience, as slowly
lifetime's equilibrium of colours shine through, in piano – sax –
trumpet – guitar and spirited voice, that's not kidnapped and
shackled by rules,
but shaken and stirred music upside down in sumptuous rhythm,
sometimes racy with extraordinary ramblings – intense and wild
to some...but never boring.
Picture from pixabay free images.