Journey Into Fairy Woodland Part One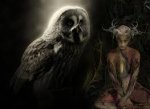 Sun, 27 Mar 2022
A Story In Four Parts.
This is dedicated to all those that still believe.
Part One
Come with me on a journey into fairy Woodland, where in the deepest parts of a place called Wistful Wood lived a lot of magical beings who take care of nature, and are responsible for the wood's upkeep. Of course they're impossible for humans to see, due to their skill of making themselves invisible. There are areas so dense mortals dare not enter, in fact although these places existed, they were on another plane that was unseen, because all too soon humans lost the will to believe.
Beyond the beauty of untainted nature, there were mysterious veils leading to other levels of existence where nature and wildlife lived side by side. Creatures that inhabited the area...mainly fairies, dwelt near stony banks covered in ivy – ferns and wild undergrowth. On the face of these banks were openings about two feet in height, and one foot in width, they fed into dark tunnels leading to what was known as the hidden world. Mortals always imagined they were dangerous places, fit only for foxes.
For the Fairies however they held comfort and security from prying eyes. They were skilled and adept in this gloomy environment, and able to see fine in the darkness with their magical orbs that would light up as they flew around in the inky blackness, and could hide in shadows if feeling threatened.
Fairy folk were only too happy for this belief of fear to be sown into the fabric of human history, meaning the fairies would be left alone safe in the knowledge their energy and magic could sparkle unseen.
The woodland was so wild and ancient, it hugged the ferns and moss covered rocks, which would become slippery when wet, which was another reason why mortals never ventured that way, and where the fairies could fly freely in the knowledge they would remain invisible and enduring in their surroundings.
Going even deeper under the cover of tall trees, along grassy banks and across streams, were great oaks that had knotted branches and thick set gnarled trunks with bark covered in burls, resembling magical faces that gazed out upon the wood.
High up in one of these magnificent aged oaks with its powerful, imposing presence, sat a greeting of tiny welcome fairies, no taller than the woodpecker that flew around Wistful wood searching for another tree trunk to peck and notch out.
These fairies were dressed in the finest greenery, some wore pretty lime green wood spurge flowers, while males were adorned in fern leaves. Normally fairies would be naked, but today was special, for it was to be a binding between Princess Anemone and her mate Alver, one of the guardians of the holes in the banks and tunnels.
It was well into spring with summer just around the corner. The woods were alive with the sound of bird song and new life sprouting from the earth. Sunshine briefly appeared shimmering through the newly sprung leaves, where a canopy of joy was bought together on this auspicious occasion.
High up, inside an owl's hole in the trunk of the old oak lay the slightly drowsy Princess Anemone. Owl who guarded the opening by night was eager to be away hunting, he flapped his wings in agitation and hooted to wake the fairy, who also protected and guarded the tree by day.
The flapping woke Anemone and she stirred, stretching weary slender arms, her tiny figure slight, with wings tucked smoothly away beneath her soft mossy bed.
Remembering this was to be her binding day, Anemone yawned and sat up with a smile, she shook out her wings...they fluttered glad to be free. With a glance Anemone giggled, and with a squeaky voice she called out, "okay, I'm coming." Without looking back, owl flew off eager to be away.
Approaching the opening and sniffing the air, Anemone ran tiny fingers through her tousled dark hair, glancing at a huge blanket of bluebells that seemed to have suddenly appeared overnight stirring in a gentle breeze. "Those tiny precious darlings that brighten up this spring morning," she whispered to herself, as blue tits on the wing pensively sang to the echo of her thoughts.
She pondered on the love bound celebrations and the day to come, of being together with Alvar her future mate. Nature was blossoming and already her sister Celandine was up and about making preparations for the gathering.
While the Princess had been sleeping, her older sibling Celandine had organized the other fairies with their specific jobs. From branches they'd laced arches made from twigs with garlands of cow parsley flowers, and ivy along a branched aisle, right up to the honourable oak tree entrance.
Some of the Princess's closest companions were to be her attendants and were already dressed in gowns of Forget-me-nots and Violets, with fresh daisies adorning their hair, while Anemone was to wear Yellow Archangel flowers bound to fern leaves, and the first spring buttercups woven into her tresses.
Sweet conjoin would bring together not only the happy pair, but also give fay a chance to come together beneath the promise of enchanting bliss.
To be continued...
Journey Into Fairy Woodland Part Two | ABCtales
Pixabay free image.