The Listening Tree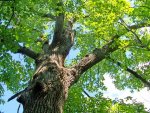 Tue, 02 Jul 2019
1 likes
I buried my thoughts under the village oak tree many years ago, swooning at the memory that was fleshed out in words, making it all the more important to look back and reminisce that long ago weekend that meant so much.
Each time I think about it, even now after so many years as I sit under this oak remembering our deep affection for each other, I always felt that this tree listened to me as I stroked its bark feeling each ridge brush my palm while waiting for a reply to enter my thoughts.
It was then that recollections appeared as I gazed with tired eyes, feeling my way across the bark's knobbly trunk, where there was one bump that resembled a nose below two indents that looked like earnest eyes staring back at me.
It wasn't just me who saw the face, many of the locals told their secrets and spoke of their wishes here, some like me burying bits of paper with written messages many years ago. But now with the grass covering the earth, all we could do was recall.
As I closed my eyes still with palms gently touching the trunk, I was immediately transported back to a time, when life seemed so easy and real worries were a million miles away seeking out the adults of this world.
Our Summer of love wasn't back in sixty seven with all those flowers, bells and painted faces, but a beautiful memory of seventy one, when I in brown hipster flairs and flouncy embroidered white top, blonde hair flowing down to my waist in trembling curls that I was so proud of, resembling singer songwriter Sandy Denny...or so people told me at the time. I recall wearing brown leather Jesus sandals on my feet that had walked many miles since I first bought them at a local Indian shop.
My name was Helen Walker back then, I was nineteen, and although filled with trepidation as I walked out the front door of my parents terraced house shouting; 'Bye!' Over my shoulder and slamming the front door, as I always did and hearing mum's shout of; "don't slam the door!" Ringing in my ears. I was also eager and excited to meet my friend and be on our way.
I lived in a three bed-roomed terraced town house with my parents. My older brother Samuel was no longer at home having gone off traveling the world, so it meant I got his room it was a lot bigger than my original box room, which became his when he returned home occasionally, he never seemed to mind which made his stays more tolerable. Not that we didn't get on, especially since we'd become older; and also what I like to call 'wiser.' I always went to him if I had problems and he would set me straight by telling me to have more confidence and not be shy, easier said than done even at nineteen.
Sadly my brother is no longer with us having passed away after a heart attack at seventy five, now I just have happy memories of being kids and summer holidays at the beach making sand castles with him and feeling extra proud of the fact I had an older brother that cared.
***
My trip began at the bus station, laden down with backpack and my guitar slung across my shoulder. This was a far cry from anything I'd ever done before, but I knew the adventure would be worth it in the end. Deb stood at the bus stop in her purple velvet loons and iconic sergeant pepper jacket she always wore, over a baggy black cotton blouse.
Debs waved out as soon as she saw me and I smiled picking up the pace. I loved the fact that we always got strange looks as we embraced each other in a hug, it felt to us that two friends showing any form of affection was wrong in the eyes of the public.
Hitch hiking all the way to what was to be a free festival felt slightly daunting, but after about three hours of walking, we'd managed to get a lift in the back of a hippy van that was heading the same way as us. Neither Deb or myself felt at all worried as this brightly coloured rainbow, flowered van pulled up yards away from us at the side of the road.
We eagerly approached as the doors swung open, getting knocked backwards with the scent of musk hitting our nostrils, I knew the fragrance well, it always reminded me of entering what was our local Indian jewelry and clothes shop back home.
A guy with no top on showing a slim figure and skin that was so smooth and tanned jumped out. "You need a lift?" He called out swishing his long black hair out of his eyes. He was like a dream, even in dirty black corduroy trousers with no shoes on his feet, reminding me of a young Cat Stevens. " We're just stopping for a toilet break, then we'll be on our way." His Welsh accent set me all a quiver as me and Debs both gazed at each other and smiled as if we were both thinking the same thing.
I shyly turned to him and replied; "Yeah! If you're going to the festival, we'd love a lift."
The guy beamed in my direction as he rubbed his hands together. "Hop in then...won't be long." He tread carefully onto the grass verge, feet looking like they'd not had a wash in ages and began to unzip.
Me and Debs giggled and got into the van. There were two guys and two girls in the back and I immediately wondered if one of the females was the Cat Stevens lookalike's girlfriend, it would have been such a shame if she had been.
Casually we climbed into the back slightly worried at the fact we were getting a lift with complete strangers. "We just want to cadge a lift to the festival if that's okay?" I hoped they wouldn't mind because my feet were killing me.
"Yeah! Sure, if you can find a space to sit." The lack of room had me and Debs a bit worried, but as the others shifted around space became available, if a bit tight we scrunched up knees together for the rest of the journey.
Everyone seemed friendly enough as they introduced themselves. There was Neil the driver, who looked like a young John McVie out of Fleetwood Mac, then another guy in the passenger seat next to him was Charlie who had a beard and blonde hair. "We're as gentle as a summer breeze, but tough as well worn boots," he joked, seeing the worried expression on our faces. It was as if he could read my mind.
Then their were the girls who introduced themselves as Charlotte and Annabelle, "but you can call me Anna!" She was quick to point out. They seemed quite posh in their long flowing Indian skirts and flowery drawstring tops, a bit too posh for slumming it at a festival I thought, but they also seemed pretty down to earth and friendly, so neither me or Debs had a problem with that.
Finally we got around to introducing ourselves. "My name's Helen and this is Debbie, but friends just call her Debs." There was an uncomfortable silence, but then the other guy returned letting himself in. He took my hand and kissed it much to my surprise, it left me blushing, I'd never had my hand kissed by a guy before. "Name's Glyn! So you're going to the festival too?" I nodded.
"That's cool?" He said settling himself down in the only space left available.
I remember feeling all eyes on me, it felt uncomfortable as my face flushed...crikey! Did I wish my brother were here now! I thought and definitely needed a drink. "Any idea when we reach Glastonbury?" I asked changing the subject. "I could really do with a cider."
Glyn took out a tin of roll ups and began to offer them around, I declined not being a smoker.
"Shouldn't be too long now," replied Neil the driver, "I'd say about another twenty minutes, then we can stop for a break."
On the way Debs and me discovered that Charlotte and Annabelle had moved from their rich parents house in Kensington, to a working commune in South Wales, where they'd been living for the past year. I found it refreshing to think that these girls came from money, yet it didn't stop them from working the land and learning to share with others.
I also found out that the farmhouse they shared belonged to Glyn, his parents had left the place to him in their will. I thought it was a clever idea to take these people in, to help work the farm, then they all reap the rewards.
We pulled in at Glastonbury village car park and felt the vibe there straight away as we wandered around the many shops selling hippy gear, followed by a drink at one of the local pubs. I'd wanted to check out the abbey, but the others wanted to get to the festival sight to set up their tents, so after buying some flagons of cider we set off again.
I remember feeling like the last few miles would never end as we passed field after field, until into sight came hippies, yes! Many traveling on foot. We had no idea who would be here and weren't that bothered to be quite honest. It was the atmosphere we came for, to be around like minded people and of course the cool guys! But I think I'd already met the coolest one.
Debs and myself jumped down out of the van and thanked Neil for the lift. We'd decided to find somewhere to put up our tents away from the others, not because we didn't want to stay with them, but they'd chosen a spot that left no room for us, so we told Glyn we'd see them later and set off in high spirits to find our own space.
There was this quiet spot quite close to some trees which we thought would add shade if it got too hot. Plonking everything down I got the cider out and took a swig feeling the cooling sweetness on my taste buds, it was a perfect mixture of fresh air and a sugar fix that bought my spirits back.
It didn't take us long before the tents were up and everything was sorted. I was desperate to get my guitar out and play, it was practicing everyday that helped my playing get better. Both me and Debs loved Fairport Convention, so I sat down cross legged on the grass and began to play one of their tracks called; Flowers of the Forest, this was one of my favourites.
As I played, quite an audience suddenly appeared without me even being aware at first, then they even began to sing along. Some guys and girls began to sit down in a circle around me and meditate with eyes closed, so I continued to play the song over and over again, it was all so beautiful and peaceful. One young flower girl came up and gave me a bunch of daisies and buttercups kissing me on the cheek, she smiled then walked away. I felt elated and decided to play Matty Groves while Debs sang, it was an afternoon I would never forget as the peace loving flower children began to dance.
I was suddenly aware of hands on my shoulders as Debs sang the last part of the song. Looking up I noticed It was my handsome Cat Stevens lookalike. He with an eagerness in his eyes like a summer breeze stroking my skin. I understood exactly where his smile was coming from such as an invitation given. I remember my excitement building as we began tinkering with each others emotions, our body language teasing, yet it was as if we were able to read each others minds.
That's not to say I might have had it all wrong, but that afternoon after drinking quite a few ciders and beers, we stripped right down to our birthday suits and had snippets of deliciously free naked joy, escaping into nature and the beauty that was all around us, it was all so freeing.
This brief moment of high spirits dissolved into floods of hysterical laughter till our sides ached, which gave me reason to think I was correct about feeling high and that the drinks had been laced with some trippy substance. Yes, youth was on our side with our bodies resembling beauty of trance like colours as the sun set and darkness approached, but I remember having no idea of time or even caring.
Glyn's slender body and long dark hair, black as the raven had my knees trembling with passion, his every chest muscle rippling as we rolled about in the grass. Touching it was as if there wasn't another soul around, just the two of us in exciting passionate contact, we both pulled away at the same time afraid of the electricity between us which triggered sparks, that stimulated the butterflies inside me.
I'd never met someone so engaging and had no idea when day turned to night as we drifted across fields. I felt as light as a feather as Debs took Glyn's other hand and we skipped through a maze of colours that seemed to swirl and dance with us.
It was only as it nearly became too dark to see that we began to feel the chill of night air, so dragged ourselves back to the tents where our clothes lay waiting for us to dress. I can remember the problem I had trying to get my flairs on and falling over each time I lifted a leg, so ended up plonking myself down on the grass but still not able to direct a leg in to the flairs, it must have looked so comical and had me in a fit of giggles even now as I recollect.
Finally dressed and ready with no particular place to go, but hearing music drifting from the stage made us aware that Stevie Winwood was playing. In the darkness we approached the crowds that were by now so high. I remember feeling like we were one big happy family of drifters passing through, hugging, kissing, freaking out like there was no tomorrow, music sending us into a tunnel of ecstasy, with hair flying and arms and hands shaping the air, touching textures of the breeze that surrounded our auras...in fact I recall seeing shades of movement all around me like paint running.
We had so many wonderful moments of sharing, surrounded by a diverse assortment of characters, packed full to the brim with enchanting eccentricity that stays with me forever.
***
Sitting there contemplating I was suddenly aware of a tap on my shoulder, looking around I noticed it was my beautiful 15 year old granddaughter Alisha looking so much like me when I was her age.
"Gran are you coming home, or are you going to sit here all night?" She exclaimed spinning around with arms outstretched as if she were about to take off. Alisha was always fidgety even as a baby, not able to stay still for five seconds.
I hadn't thought about the time till I checked my watch, suddenly realizing it's 6pm on this balmy evening, I needed to get home and prepare tea. "I think it will be salad tonight...far too hot for me to cook."
Now I'm in my late 60s it's hard to get up from sitting on this grassy bank, but I'm glad I came and recalled my memories and thanked the oak for listening.
"Help me will you dear," I uttered as Alisha put out her hands to assist me. Getting up onto my knees my legs were like led weights. Alisha started laughing as she too ended up on the grass trying to help me. "This is no good I said frustratingly. I crawled over to the Oak tree and grabbed hold of the trunk pulling myself slowly up till finally I was standing.
At that moment Alisha burst into a cheer and started clapping. "Good old oak tree, always there when you need a helping hand." She chanted. A big grin on her face.
I smiled brushing myself down. "Yes!" I replied, " that oak tree has many talents."
We returned home to the cottage we'd lived in for more than twenty years. Glyn now grey and slightly loosing his hair, but still had a bit he wore in a ponytail. He was busy in his workshop out back doing what he enjoyed most...making wooden animals, when we walked in.
"Hi you two," he said putting down a shaving tool. "So! Who are we watching at Glastonbury tonight on tv?"
"It's the Killers Granddad," shouted Alisha. She always watched with us as her mum and dad weren't really interested.
"Sounds like a killer of a band luv," said Glyn. Alisha giggled. "Not like in our day, is it Helen?" Glyn looked at me and winked.
"Sure isn't!" I replied with a smile.
Picture by pixabay free images.