My Trip To Torquay Taking The Plunge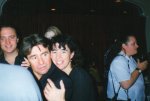 Tue, 22 Sep 2015
By now everyone had adjourned to the lounge, it was becoming packed, I watched as people stood around chatting and getting their photographs taken with David.
I had a plan and told Jimmy, Jerry and hubby about it, they were quite amused. This was the moment...I couldn't resist putting my plan into action. Through the crowds, I saw Jimmy stood next to David up at the bar. My heart was beating fast as I made my decision...it was now or never.
I asked hubby to be ready with the camera, then plucking up courage, I took a deep breath and pushed my way through the crowds with only one thing on my mind.
There he was my idol for so many years, it was like we were the only two people in that room. People had been asking him for autographs and photos with him, I had to wait a while till nobody was around.
Eventually he was facing the bar with his back to me, so checking that hubby was there, I gave him the sign that I was ready, then made my move. Creeping up behind David, I put my hands on his shoulders and licked his ear lobe. Poor David was perturbed and wondered what was going on, until he turned around and saw who it was, then he smiled and tut tutted.
Well, I got my photo taken and also David signed my Wembley tickets and a few other items, like my souvenir book. I'd also bought along a photo album that I'd put together of the Monkees and David checked that out too
To be continued...