Once Upon Again And Again...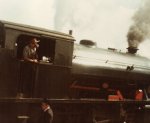 Thu, 08 Mar 2018
Photo is my own.
Left here in darkness
tarnished over time,
gloomy existence a sacrilege,
is this the legacy of hard work?
To be fractured
held as less important,
motionless, rooted among
antiquities of years gone by.
Remembering when;
humble giants set the rhythm,
chuff...chuff...chuffing, building
momentum along miles of tracks,
passing open fields then
through sleepy vales at
speeds of 100 miles per hour,
passengers gazing out of windows,
tracks replicating vinyl, stylus creating
rhythmic, musical, resonating sound.
Time will heal when once again
steaming through sleepy stations,
whistle blowing out a welcome
passing those busy towns,
wait...wait...waiting,
soon no more
wallowing
in self pity,
bright light flickers
pistons will turn once again,
chance for smoke to billow
out across horizon,
clouds casting dappled shade
thanks to shelter of trees,
letting people know
I'm home again.