Prisoner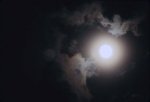 Wed, 28 Sep 2016
Sallow skin ravaged by hunger
gripped by callous sinful hands,
raven approaches with dismal
reminder of this desolate waste,
escape blew me across this barren land;
where all that's heard is frantic hysteria
promising to melt this brain; till each stem
is sacrificed to this madness called insanity.
Oh! Hostile sand you abuse my sight,
grinding me down with gritty fragments;
anything would be better than these mundane,
frayed clouds drifting across a full lunar moon.
How I long for the jabber of jailbird gossip,
even fear cutting through turbulence of men,
those cursed – chilly bars of steal would be
welcome on such a howling – devilish night.