Timanfaya Volcanic National Park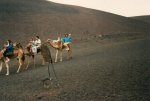 Sat, 26 Jun 2021
1 likes
Dear diary...a poem about the volcano we visited
in Lanzarote, during a holiday in July 1987.
Once quaking; red hot lava gushing,
flames rising taking shape;
exploding then bursting fourth,
spewing with breakneck strength
while gathering clouds;
no cushions of comfort,
just endless burning
this scarred landscape.
Even Macbeth witches of chaos,
toiling at their pleasure; brewing magic
couldn't create such heat,
as hungry melting pot devours everything
in its path with such havoc created,
so remote this reshaping from darkness to light,
daubed in relentless transformation;
skirting horizon, leaving black rocky desert,
wilderness both parched, yet full of energy.
Then a new creation, tourism rising
like phoenix from ashes;
wasteland now a dynamic progression
of trails many have already traveled,
as I too with rhythm on camel
once gazed at uninhabited scene
in sultry atmosphere,
we swayed under a mysterious sky;
till reaching this devils pit,
beneath land there lurks an underworld
that hides its secrets, of fire and flames;
gleaming and dancing to nature's kitchen,
empowering us with aromatic meats and fish,
just for a second geysers of steam rise to meet day;
yet...beneath still a bubbling cauldron breathing,
living though calmly brooding; I wonder if this hell
hears those many conversations, as hungry visitors
chatter about this – that and other matters,
resigned for now and seeming at peace.
Photo's my own.