A Trip To Torquay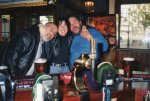 Sun, 20 Sep 2015
Dear Diary...here I am, some forty nine years later, sitting in front of a screen and typing, still feeling like a fourteen year old when I think back to those days of 1966 and 67...well they do say you revert back to childhood when you get older, but I can't really remember a time when I wasn't young at heart, though these days my body tells me otherwise, but of course the soul is willing.
I never thought anything could top the Wembley experience with my excess of exuberance. But then it happened one day, and like a Phoenix from the ashes I rose again, this time the extremes of my enthusiastic nature became even more exhilarating, running around like a mad woman possessed, I wanted to run out in the street and scream! Yes! Yes! Yes! But of course I didn't...no I'm not that mad, not quite yet.
It all started in 1993 when I became a member of the Monkee Fan Club...yet again. Here I was at the ripe old age of thirty nine, getting excited about being a member. When yes I know I was into Metallica and heavy metal at the time, but I could never quite brush off my love for Davy Jones.
I'd been a member of the fan club for a while, receiving a magazine through the post, giving information about the band and what they were up to, it was mostly about their American gigs, plus shows they put on in other countries.
Then, one day I received a mag issue, opening it up I read that David Jones, 'as he now liked to be called,' was coming to England to play at the Belgrave Hotel in Torquay on Thursday 14th October 1993.
Well! You can imagine the euphoria I felt, it was off the wall. Not wanting to hang around, I was on the phone ordering my tickets straight away. You have to be on the ball because he was so popular.
Without even waiting to see if I had tickets, my ex hubby got on the phone and booked a double room at the hotel.
It felt like a lifetime waiting for the day to come, the weeks going by so slowly. But then the final day arrived and my butterflies were doing cartwheels.
I could hardly sleep the night before I was far too excited. I'd packed my overnight bag and on the morning we were due to leave, I did a spot check, making sure I had everything. This smitten girl wanted to get as many items autographed as possible. So armed with a carrier bag full of albums, my wembley tickets – souvenir book and much more, we made our way out to the car.
I was married at the time and my ex husband drove us down, while I drove him mad with my singing and yakking on about David, but being the patient man that he was, hubby just listened and stayed calm, though I think he was more than relieved when we finally arrived at our destination.
After parking the car, we made our way to reception to sign in. Once all the formalities were completed, we were given the keys to our room. Can't remember what floor we were on, but I seem to remember it was comfortable with all the usual amenities of a TV, kettle and so on...but none of these things mattered to me, just as long as we had a bed to sleep on and a bath to soak in, that was all I needed.
All we both really wanted, was to get to a pub and start the day's celebrations, savoring every moment possible. My heart was beating fast and I couldn't stop chatting to people we met...I was high on adrenalin caused by David Jones. With a permanent grin on my face that I couldn't shake off and smiling like a Cheshire cat for most of the day, we found the first pub and went in. The landlord was highly amused when I told him why I was so electrified, not understanding how anyone could get that way over another human being, but I knew men could never understand a woman in the throws of passion for their idol of many year.
"I don't understand how someone who's into motor bikes, wearing a leather jacket and into Hendrix, can be into a Monkee," he said supping his beer and finding me highly amusing.
"That's me...one extreme to the other," I replied feeling like the cat that got the cream. Nothing could spoil this day.
I think we went in just about every pub we could find, with me jabbering on about everything under the sun and not really recalling any of our conversations. I was so fired up as we were making our way to yet another drinking hole, when my hubby suggested we eat, but I was far too electrified for food, how could I eat when I was so merry?
Many hours later and really buzzing as I thought about the evening, the two of us made our way back to the hotel. Collecting our keys we made our way to the room. While hubby was exhausted and flopped down on the bed for a sleep, I decided to take a nice hot bath and soak in some bubbles.
Staring through a haze of inebriation, I got under the shower and managed to wash my hair, leaving the conditioner in, then with all my concentration I tipped in the radox, filling the bath up with water. By now hubby was snoring, so I left him to it.
There was about two hours till the show started, so stepping in the bath and sinking into the hot soapy suds, I luxuriated in the warmth, every muscle loosening up, wallowing in the bubbles that surrounded me. Ah! Heaven, but the problem was, it was so relaxing I fell asleep.
To be continued...