Weather For Brass Monkeys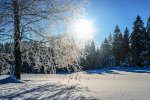 Thu, 01 Mar 2018
Picture by pixabay free images
1st March 2018
Temperature
fit for snowmen,
as bitter rawness envelopes
my every muscle clenching tight,
anticipating
storm Emma...she'll
come with vengeance,
bringing with her snow and ice.
Attention
caught between
my love of writing
with finger-less gloves,
gazing
out of window at
feeding birds who have
no idea what the fuss is about,
while
avoiding the
inevitable housework,
which I keep putting off for another day.
Simply
find a distraction,
a procedure attracting warmth;
picture sun its intensity caressing my spirit,
Imagining
heat of Indian Summer
becoming hotter...basking in each ray,
till full moon reflects light of sun at end of day.