When All Is Said And Done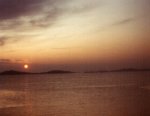 Mon, 09 May 2016
Now I'm in my declining years
feeling so lucky looking back,
for even in my gloomiest hour
a ripple of light shone through,
So! Why would I wish to search
for other living worlds out there
when all that I need is right here?
Embracing this location with a
glimmer of hope to all that I hold dear.
I understand there are minefields
others hellbent on destruction of life,
some people surviving the edge of a knife
because of persecution they're living with strife,
but even if we found other worlds to exist on
I'm sure we'd make mistakes as in times gone,
it's just human nature to express our beliefs
whether good or bad gratitude's or griefs,
some individuals can't hold their feelings in
want to shout from the roof tops about fairness,
need to release on what they feel and perceive,
makes me so sad but I wouldn't want to leave.
For me earth is like a warm baby's bed
cradling us all – a place to rest my head,
making sure like a good mother would
catch us if we fall whether bad or good,
even though some would see fit to destroy,
thinking life has no meaning at all,
Gaia is still my one precious home
its core pulsates where I'm never alone,
is the drum of life that I'll always beat for.