Wild Night At The Wrestling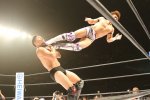 Wed, 24 Oct 2018
1 likes
Dear diary: Thinking and writing about Saturday 20th October 2018.
Daydreaming of doing different things that are out of my comfort zone are always good, so when my son suggested out of the blue going to a wrestling night to celebrate his birthday, I thought! Why not, it could be fun.
We'd been to watch American Wrestling in a huge stadium back in the 90s when we were in Florida and that was pretty cool, my son was only about eight at the time and really into Hulk Hogan, he still continues to watch wrestling even now to this day, so it was decided.
Trying to get tickets online was like attempting to get water out of a stone, or striving to win the lottery, impossible and frustrating, so being the good mum that I am...sorry I'm not being conceited but I love my son dearly. Anyway I caught the bus into town and went to the central library. It was all so easy dealing with a human instead of a machine. With cash in hand I went straight to reception, where I was greeted by a pleasant smiling lady.
"Hello!" She said. "How can I help?"
"I'd like four tickets for wrestling on Saturday 20th October, I was told I could buy them here."
"Ah! Just hold on one sec, I'll have a look." She went to a drawer and took out a folder with the tickets in and returned still smiling. "That was four tickets you said?" I nodded yes. "How will you be paying?" She asked.
"Cash," I replied. I always feel better paying with cash, don't ask me why, it just feels right. I gave her the notes and she handed me the tickets saying, "I hope you have a great night." Now you don't get that kind of response and a happy smiling face on line...now do you?
I left the library feeling that was money well spent, my son would be over the moon, not only getting one of the best birthday presents, but that his mum would be joining him, a very rare occasion indeed.
I then decided to search out a new top to wear, which would help make the evening more special...well for me anyway. Going from shop to shop was as everyone knows very tiring. I made the mistake of not buying the first top I liked, thinking there might be something better, then ending up back where I started, I always say "I'll never do it again!" But I always do.
Anyway later I headed back to the first shop which is new and sells XXL tops for those of us ladies that have a bit more on top than they'd wish for...that's me of course. I've tried to loose weight, ha...ha! But my love for food always gets the better of me.
***
Saturday night arrived with anticipation, having no idea of what we were about to encounter. We caught the bus into town and met up at the Savoy for drinks. The weather was glorious with the sun shining.
A busker was playing outside the pub under the canopy of shade. What a perfect way to spend a couple of hours, because he was really good.
Eventually we went back inside till 6.45pm, managed to get seats easily enough. They have shelves of books lining the walls of the pub which my son tells me, you're allowed to take down and read, though personally I can't honestly say drinking alcohol and reading go hand in hand, but that's just my opinion. Me and my partner normally end up getting very philosophical, talking about our beliefs, or reflecting on times past.
The time came to leave the Savoy, so drinking up we headed across the road under a beautiful bright moon to the Mecca. I've never been there before and only associated it with bingo in the past, so couldn't help wondering what we were walking into.
Steps led you up to double doors leading into the foyer, here we showed our tickets. Then we walked up some more steps to our left that led through more double doors into a huge ballroom with very loud thumping music that vibrated all around. Laser lights flashed around as a large glitter ball hanging in the middle of the ceiling rotated.
There was what I considered to be quite a small wrestling ring in the middle of the hall with a walkway leading to a front stage. The ring was surrounded by an audience of both young and old, I imagined there was about three hundred altogether, some sitting and some walking around.
There were two bars, one was in darkness to the left side of the ring and the other was at the back of the hall where you could buy drinks.
We had standing tickets only, so I was glad that I'd had my hip done last year because there's no way I could have stood for three hours two years ago. My partner discovered one stool beside the bar that was in darkness, so we decided to share it for the night and had a great view propping up the bar.
The first fight was the usual tag team performance which I've seen tons of times on the tv with my son, followed by the usual athletic antics of throwing each other around and getting tangled up in the ropes, followed by all those deadly moves you see them perform. The one I never like to watch is the tomb stone, how these guys can survive being dropped on their heads I don't know.
But that was tame compared with what was to come in the second half. After the break it was the main event. Now on the posters it said: Wrestling T. L. C Championship, which doesn't stand for Tender, Loving Care, in fact it's the complete opposite. It actually stood for Tables, Ladder & Chairs...I bet you know where I'm going with this!
In the break some guys had fixed a wrestling belt up on the ceiling in the middle of the ring which hung from the glitter ball. The idea was, that whoever managed to climb the ladder and retrieve the belt would be the champion...easy you might think! You must be kidding, I've never seen so much violence in my life.
As I stood watching, it was my turn to sit on the stool next to my partner...thank goodness! My legs and feet were killing me. Suddenly the whole audience stood up and started chanting, over and over words I couldn't make out, obviously they knew something we didn't as I sat quietly on my stool watching the scene unravel.
There were six wrestlers in the ring to start with. All of a sudden they started chucking each other out of the ring onto the concrete floor, things were by then getting pretty fiery as each opponent faced the other. As the crowd parted and made a path, without warning the fighters were heading our way and carried on their brawl.
I was suddenly inches from six sturdy, stocky, tall, six pack men all laying into one another, with a crowd surrounding me. I felt like I was in the middle of a battle that was being jeered on by the swarm. Then one of the wrestlers asked me for my stool...well I didn't hesitate to let him have it...I mean the stool not my fist, honestly I'm not at all a violent person and who am I too argue with such a giant who asked me very nicely.
He was blonde, tall with a body like an Adonis and I couldn't stop gazing at his abs that were rippling on tanned firm skin...phew! Anyway enough of that. We stood and watched as he climbed on to the stool and then continued to clamber up on to a nine foot ledge next to the bar, which was scary enough, but then he took a flying leap and dived off the ledge, over our heads straight onto the wrestlers that were now lying face down on the floor in the circle of shouting people, who looked like they were out for blood. Now I know it's all an act, but talk about nose diving into danger, I can't help thinking about the what if's, like if those wrestlers on the floor had moved inches either way, he would have ended up face down on the concrete, probably damaging that handsome face to boot...it's what I call trusting your partners, but I thought extremely dangerous.
The crush of bodies mixed with the hordes of people milling around the wrestlers still chanting, could have seemed really frightening to some as they continued to smash hell out of each other, still inches away from where we were standing, but for some reason I didn't feel nervous at all, until they finally made their way back to the ring and began smashing chairs and table over each other, then I was shocked, to be honest I don't get it or call that entertainment, especially as there were very young impressionable children in the audience.
The ladder still remained in the middle of the ring and each wrestler that tried to climb it to get the belt would be pulled down, some managed to get to the top but the ladder would be pushed over to the applause of the crowd, it was beginning to leave me cold and ready to leave as each wrestler became exhausted and lay on the floor of the ring trying to crawl towards the ladder.
In the end the Adonis was the one to retrieve the belt with a great struggle and everyone chanted and applauded. I know it's all contrived, but that much violence in front of young children who could be influenced, to me is unnecessary.
I remember back in the late 60s early 70s going to see Mick McManus at the Colston Hall in Bristol and enjoying watching wrestlers just fighting in the ring without the use of tables, chairs and ladders. In fact I was such a super fan back then, I even went back stage and got Mick's autograph which I still have to this day.
Despite everything though it was a good night out because it was something different and my son enjoyed himself which was the main object of the night. Everyone sang Happy Birthday to a few people that were celebrating, so we sang the same to my son and he seemed impressed and sang along too. There was also a stag night, the stag got up on stage and enjoyed being punched in the chest by the wrestlers which I couldn't understand, but my son informed me it was a great privilege for a fan to be sliced across the chest and he seemed to think it was a brilliant way to remember a stag night, which I found all too weird, but then I'm not a male and not really into wrestling, so each to their own I suppose.
I don't think I'll be going again though, it got me way too frayed and hyperactive before going home to bed. All I could think about was that wrestler's rippling six pack...oops! Sorry love, but there's no harm in looking, now is there? Fact, I wouldn't trade you my partner for a million of those wrestlers! Honestly.
Image by pixabay free images.