Winter's Charm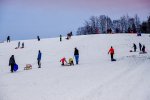 Tue, 29 Oct 2019
1 likes
frosty mornings thrill to a chill
when icy cold and perfectly still,
lake once rippled glistening rings
frozen till ice thaw comes in spring,
swift the wind as it twists and turns
covers evergreens – trees and ferns,
swirls in a vortex lifts flurry of snow
unpredictable as to where it will go.
Cautious elders vigilant to thin ice
see magic colours of Northern lights,
children wrapped up nice and warm
entertained by silver, niveous storm,
driving snowmobile, or on a sleigh ride
traveling distances with leading guide,
shy reindeer hold their heads up high
make presence known with their cry,
smiling faces toboggan down slopes
with scarves, woolly hats and coats,
make snowballs, line them up in a row
safe competition, 1, 2 and here we go,
soon tired children lay down in snow
make fun angel wings before they go,
trip almost over tired and famished
staying awake is hardly managed,
snowmen gaze through window pane
as tired youngsters arrive home again,
family warmth inside a welcoming sight
hot food to be had, fire's burning bright.
Pixabay free photo.