Camp Echo - Chapter 11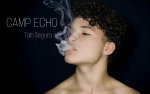 Sat, 22 Feb 2020
Chapter Seven - Take a Chance on Me
second edition
Lucky it wasn't a heavy day at work, because both Max and Aeriol felt tired. They were only supposed to take one break in the afternoon, but working practices were relaxed, so long as you got the job done. Only three of the team were working, Jacob was the third man, and he was happy to put in the work early afternoon, when they arrived. With a bit of a frenzied pace they stacked the shelves with the merchandise from the last delivery of the morning. Aeriol was buzzing, which made Max wonder if he hadn't a secret stash of the white powder. He had difficulty keeping up, and collapsed in one of the comfy chairs when they finally took a break.
At six, they left Jacob to lock up and headed down the road to catch the bus home.
"What's happening with Nate?" Aeriol asked as they waited.
"I don't know?" was Max's answer.
Aeriol smiled. "You slept together."
"We shared a bed," Max clarified.
The bus pulled up. It was packed, the upper deck full of school children, shouting and mucking about. They found seats on opposite sides of the isle.
"Move the bag will ya?" Aeriol stared at a morose schoolboy, who reluctantly picked up his bag and put it on his lap.
Funny how teenage boys hate having someone in the seat next to them and want to reserve the space.
"If you don't do anything he'll move on," Aeriol continued the conversation.
"Why do you say that?" Max leaned across the isle.
"Because... Nate is looking to get fucked."
"Keep your voice down," Max said, glancing around.
But Aeriol wasn't someone who cared. The schoolboy sitting next to him was pretending not to listen, but Aeriol's conversation had grabbed his attention.
"Nobody's listening. It's a riot." After he said that Aeriol turned and glanced at the boy in his school uniform sitting next to him. The boy quickly looked away, staring out the window. "Remember it was me who brought him home in the first place."
"And you, of course, like usual..." Max unlike Aeriol didn't want to be explicit, so left the sentence unfinished.
"Yeah, I did. And he loved it. Why d'ya think he came back with me. He wanted to." Aeriol glanced a second time at the boy sitting next to him, whose interest was definitely captivated by Aeriol's explanation. "What's up with you kid?" he addressed the boy. That made the kid blush, which made Aeriol smile. "You getting hard kid?" he said bluntly.
The boy didn't know what to do. He was trapped in the inside seat. But he had some bravado. "What's it to you, arsehole?" He glared at Aeriol.
It made Aeriol stop a minute as he glided his eyes over the kid. Then he turned back to Max. "We could do a threesome."
Max was shocked at the suggestion, and it showed on his face.
"If you wanted too, that is. Just saying."
Max had no reply. It wasn't something he'd ever thought about, a threesome. Not with Nate and Aeriol, not with anyone.
"Excuse me," the kid next to Aeriol interrupted.
"What is It?" Aeriol replied, sounding annoyed.
"I need to get out. My stop's next."
Aeriol looked past him, out the window. "Me too." He turned to stand up. "I'll see you at home, later. Got something to do."
Max watched him move to the top of the stairs. The boy was behind him. They had to wait on the stairs for the bus to pull up and open the doors. There was a queue in front of them. Aeriol who was a couple of steps below the schoolboy turned to look back. His head was just above the boy's waist. "You are hard," he said quietly, smiling.
The boy blushed and quickly brought his school bag around in front of him.
"You can have a good wank when you get home," Aeriol turned and moved down a step.
The boy came down two steps, practically falling into Aeriol.
"Oh, sorry," he said sarcastically.
"No you're not," Aeriol turned back to look him in the eyes. But there was no time to continue the exchange, because the queue was moving. Once on the pavement Aeriol watched the school kid walk away. He said to himself, I bet he looks back. Aeriol watched until the kid reached the traffic lights, where he turned and waited to cross the road. Sure enough, he looked back, and Aeriol smiled to himself.
Max moved into the empty seat vacated by Aeriol and the kid. He slid over to the window and watched Aeriol. As the bus pulled away, he wondered where Aeriol was off to. Then he realised he was probably going to look in at the Whole Earth Cafe, where Nathan worked. But he had no idea if Nate was working today. That made him puzzle over whether Aeriol knew. If he did, what exactly did that mean? He thought Nate and Aeriol was a one night thing.
Aeriol walked down the uneven paved path and stepped inside the cafe. The place was empty. Not surprising, it was quarter to seven and it closed at seven, weekdays. Nathan appeared from the back, thinking he had one last customer.
"Aeriol," he smiled, looking genuinely pleased to see him. "What are you doing here?"
"I was on the way home from work, with Max, and thought I'd come and see if you were here."
"That's nice," Nathan moved to the counter, starting to put things away. He felt a tinge of disappointment that Max wasn't with him.
Aeriol noticed the look on Nate's face, just a little sad.
"Are you doing anything tonight?" Aeriol watched him packing up the counter.
"No."
"Come back with me then," he was talking to Nate's back. "Max would love to see you."
That made him turn around. "You think so?" he asked Aeriol.
"Yeah, sure. Let me come round there and help you." Without waiting for a reply, Aeriol walked around and started helping Nate.
"I'll put this mushroom rissole in a take away box. There's enough here for a meal," Nate said.
They packed and cleaned up together. When they were almost finished Aeriol came up behind Nate and hugged him. "You fancy doing more than eating together?" he leaned on Nate's shoulder. "You could stay the night."
"I... uh..." Nate hesitated.
"You thought it was a one nighter and now you fancy Max?" Aeriol had no problem calling it like it was.
Nate sighed. "Yeah, I guess so. But... Max and I..."
Again Aeriol stepped in. "Max and you haven't fucked yet?" He turned Nate around and looked him in the eyes. "But you'd like too?"
Nate hesitated. "Yeah, I think he's nice."
"Ah! Yes, he's nice, but I'm bad." Aeriol stepped closer and let both his hands go behind Nathan and grip his buttocks. "I'd love to fuck you," Aeriol smiled broadly and squeezed. Nate seemed to hang there like a May fly, ephemeral, hovering in the air, suspended. A silence reigned.
"I need to lock up," Nate said, moving out of Aeriol's embrace.
As he was closing the cupboards and turning off lights, Aeriol went to wait by the front door. When everything was done and Nate arrived, he barred the exit with his arm. "What do think about three in a bed?"
Nate's jaw practically hit the floor. His mouth gapped open, and then he did a very good impersonation of a goldfish.
Aeriol let his arm drop. "Let's go."
Nate locked the cafe door then dropped the keys off upstairs in the main house. They walked up the road together to catch the bus to Aeriol's.
Mayaan was in the little lounge of the flat Nads shared with her brother. She spent more and more time there, so much so, she had practically moved in. Nadia didn't mind at all, but Alex was less keen. He'd told her to do something about it, reminding her their aunt gave the place to both of them and now he was sharing with Mayaan, and she never asked him if it was alright. Nads ignored him, she was willingly ensnared by May and liked having her in her bed.
"You two have got to sort something out. It's too crowded here." Alex was not in a good mood.
"Why are you being such a pain in the arse?" Nads glowered at him.
"Frustration, Nads," Mayaan laughed. "How long's it been since you got off with anybody?"
"That's none of your business. Anyway it's not about that," Alex frowned.
"It fucking is, you little prick," May glared at him.
His sister would never speak like that. Which was another thing that pissed him off. May was very dominant, he chuckled to himself. If there was a man of the house it was her. Yet, she was the most feminine looking lady. It was her personality that was masculine. He told himself he was in no position to make presumptions about sex, roles, relationships, or anything else.
"It's still crowded here. If I suddenly brought a guy home to live here, then what?"
Nads smiled. "Alex, I don't think that's likely, is it?"
"Yeah, relax, Alex." Mayaan had softened her voice. "Tell you what. How about we go visit the boys? We can see what they're up to. And who knows?"
"Now you're taking the piss, pretending to be nice," Alex gave May a hard look. "You think I'm just waiting around to get off with Aeriol or Max?"
Mayaan looked like she was reflecting. She did that thing where she touches her lower lip with the tip of her index finger, and bats her eyelids. Which made Alex smile.
"You might be. Anyway it wouldn't hurt," she giggled. "Although maybe that depends on which one you get off with."
"Oh yeah, very funny," he glanced over at his sister to see what she was doing. Whose part she might be taking. But Nadia sat there immobile and unreadable, like a statue.
"What's the mood," Mayaan grinned at Alex. "Top or bottom?"
"You know something, May?"
"Ah, what?" she looked at him, all coy and coquettish.
"Your view about gay guys is all wrong. It's like everybody thinking lesbians are one feminine and one masculine."
"Touché!" She stood up. "So let's go and surprise them and catch up. What'd you say?"
"Yeah, why not?" Alex stood up. "I'll just go get changed."
He disappeared quickly into his bedroom.
"Spot on May," Nadia whispered. "He's hot for it."
They both smiled and May bent down and planted a big kiss on Nadia's lips.
"Max," Nate looked across the kitchen seeing him sitting at the far end of the table and seeming miserable "I brought some food for dinner, from the cafe."
Max looked up at the boy, giving him a little smile. "So that's where you went to?" Max's smile became a frown as he turned his attention to Aeriol.
"Jeez, Max. Don't be so fucking down. Nate's brought a nice meal to share."
"Yeah, thanks." He got up and left them in the kitchen.
The front room was a large empty space, cold, and uninviting, but it matched perfectly how he felt. He felt cheated. Aeriol had gone and picked up Nate, who seemed only too willing to come back with him. And he knew they would end up in bed. Only they wouldn't be sleeping. He cursed his luck, he was angry with himself. It wasn't luck though was it? He wondered why he hadn't said anything when he had the chance. Chance, luck, he always lost out.
He flicked on the amplifier and turntable. Max glanced down at the dark blue label of the disc that rested there, ABBA – The Album, he smiled. Who the hell listens to ABBA? He moved the needle carefully onto the outside edge. Then he moved over to light the old gas fire as the popular strains of Björn, Benny, Agnetha and Anni-Frid filled the room. The fire boomed into action and Max knelt in front of it watching it warm up. He didn't listen to the music, just stared at the tiny flames climbing upwards.
He stayed like that, and didn't notice anyone entering the room a few minutes later, until Nate spoke. "I never knew you were an ABBA fan," Nate walked across the room. At that moment the music changed.
Nate crouched down next to him and they both listened to the lyrics.
"Somebody must have left it here," Max gave Nate another little smile.
Nate put an arm around Max, "Afraid?" He asked.
Max jumped and turned to look at the boy sitting there next to him.
"You want me to leave it there, afraid of a love affair. The lyrics Max. Don't tell me you don't know the words." He laughed and got up.
Nate lay down on the big bean bag resting against the wall. Max watched him.
"Are you saying..." Max stopped. The bell rang. "Who's that?" He stood up.
"You better go see," Nate smiled broadly.
When he arrived at the top of the stairs Aeriol was already at the front door. Looking to see who it was. He recognised May and Nads. As they came inside he saw Alex was with them.
"Hello Maxy, darling," May planted a big wet kiss on his cheek.
"Hi, Max," Nads shifted past them.
He was standing there face to face with Alex. Neither of them said anything immediately. Until Alex unblocked the stand-off. "How you doing, Max?" He asked.
Max gave him a little smile, thinking to himself that Alex didn't care how he was doing. They'd had their fling. It was over. That's what he thought, but did Alex think the same? Had he come over just because he had nothing better to do? Because he was tagging along with girls?
He followed May, Nads, and Alex, back down the hall to the lounge. But before he stepped through the door Aeriol grabbed his arm and stopped him.
He turned back. "What?"
Aeriol grinned, "Which one do you fancy?"
Max looked blank.
"Nate or Alex? Or maybe you can't decide."
"I..." Max couldn't find any words.
He didn't know what to say to Aeriol. It was not exactly embarrassing, but complicated, that Alex had showed up. He had more or less disappeared after the police and Max hadn't heard anything from him. Aeriol didn't wait for Max to decide, he stepped into the front room.
"I love ABBA ," Mayaan wrapped her arms around Aeriol's neck and kissed him.
Nathan looked at Max from across the room as Alex and Nads said hello, but with a little less animation. May sat down next to Nads on the sofa and the boys spread out on the floor around the fire. Nate, Alex, Aeriol, and Max, formed an uneven semi-circle.
"Well this is a surprise," Aeriol smiled at everyone. "I was just sorting out dinner. You're all staying? Nate here brought a nice meal from the cafe."
"You're sooo... sweet," May blew him a kiss.
"Are you sure there's enough. We did show up..."
"Uninvited?" Aeriol interrupted Nadia, laughing. "Yeah, Nate brought loads. And you know you're always welcome. We were wondering what happened to you?"
"Nothing, darling. Nothing happened. Nads and I, we've spent some time... doing things. You know how it is? Anyway, it's not been sooo... long."
Alex glanced at Max, before returning his attention to Aeriol, but he said nothing. Nate noticed there was something going on between the two of them, Max and Alex. What? He didn't know, but there was a tension in the way they looked at each other.
"I'm going to finish heating up supper. Excuse me, boys and girls." Aeriol left.
"So, Alex," Nate turned to regard the boy next to him. "You known Max and Aeriol long?"
Alex noted he said Max and Aeriol. He could have said something, but he didn't. Least ways, not about him and Max, or any detail on Aeriol. "Oh, awhile," he gave Nate a genuine smile. "May has known him longer, and Nads there, my big sis, has known Aeriol, for how long? I'm not sure. Same as May, I guess."
Nate smiled and looked over again at Max.
"Nate, can you come here a minute? You left something. It's in the bedroom." Max smiled at the boy sitting next to Alex, and watched Alex's reaction. But if there was a reaction, it was well hidden.
Nate stood up and followed Max along the corridor, past the kitchen, to his bedroom at the back of the house. Max closed the door behind them.
"What did I forget?" Nate