Maglic Moments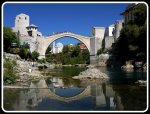 Sun, 30 Jan 2022
2 likes
Maglic Moments
In November 1993 I sat at home and watched on the BBC evening news the Old Bridge in Mostar crumble into the Neretva River that it had spanned majestically for over 400 years. Already in ruins from months of bombardment, one last shell finally ended the life of the Stari Most and a wave of sadness washed over me. This one depressing moment seemed to symbolise the horror of the civil war in the Western Balkans.
Less than two decades later I sat on a restaurant terrace on the steep Neretva valley side and stared in awe at the reconstruction only 300 metres away. The joyful sounds of music and laughter in the distance, the aroma of neighbourhood trout grilling to tantalise tourists' taste buds and the fairy tale view of the floodlit bridge and its reflection on the water seemed to symbolise the rebirth of a country and exorcise the ghosts of the 1990s.
In the limestone wilderness of the Sutjeska National Park, Maglic is the tallest of Bosnia-Herzegovina's many white shards that soar from the flower filled butterfly meadows and primeval deciduous forests to glow in the Balkan sunshine. Standing beside Marshal Tito's memorial at its 2,386 metre summit to admire deep valleys and a dozen or more distant summits was certainly a high point on my trip but so was crossing an international border to go splashing about in Montenegro's heart-shaped Trnovačko Lake during our long descent. Clear cool water on weary feet a few miles from home was invigorating but cool dark local pivo (beer) washing down steaming plates of chorbanac stew was the perfect end to our hardest day's walking. My Maglic moments had been magic.
Was it disrespectful of me to stand and eat an ice cream at the spot near Sarajevo's Latin Bridge where Archduke Franz Ferdinand had been assassinated in 1914 to spark off World War One? Well nearly a century had passed, I was on my holidays and the local ice cream vendors were masters at their craft. This East-meets-West city had so much to offer in terms of cuisine, architecture and history I felt quite justified as I was merely immersing myself into its culture.
I wandered through the narrow alleys of the old Turkish Quarter around Pigeon Square to the broad streets of Austro-Hungarian design, gazing up at magnificent old mosques, synagogues and churches; tasting spicy ćevapčići kebab fingers, sirnica cheese pie and hurmastica lemon and cream pastries; and visiting museums, galleries, bakeries, bars and bazaars whilst toasting the whole experience with Sarajevsko pivo, rakija and traditional Bosnian coffee brewed up in small copper pans.
The more recent history was evident too as bullet holes in walls, and scorch marks on apartment blocks told tales of dark times when the city was almost annihilated. The metre wide tunnel that ran under the airport runway as a lifeline during the siege of the 1990s is now a museum and a stark reminder of the horrors that Sarajevans had to endure.
High in the mountains to the west of Sarajevo we walked to Lukomir, a village that retains its almost Alpine features, including its tall pointed cherry wood roofs, as well as a unique, very small but very tall, wooden mosque. Here Saliha, a shepherd's daughter, took us in from the snow and sat us by the fire in her old family home, served us hot burek potato and cheese filled dough and sold us socks she had knitted with wool she had spun from sheep she had raised and sheared herself. She laughed and smiled throughout our visit. Such a warm welcome from this lovely woman making the most of her harsh surroundings epitomised for me the whole of my stay in Bosnia-Herzegovina.
---
Image:
Created by me. The rebuilt Ottoman bridge in the town of Mostar.