The Baobab Tree (3)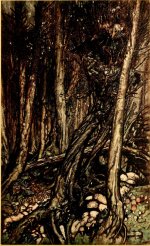 Tue, 08 Mar 2016
Small protruding rocks and the footprints of those who had gone before helped her up the steep slope. The trail led off to the right for some distance before the moonlight highlighting the white boulders revealed a sharp turn to the left. She walked carefully along the path glancing into the wood on either side as she went.
Broad, jagged leaves like the legs of huge black spiders had wrapped themselves around the stones and were pulling them back into the darkness. Tall trees stepped closer to the trail, their thick trunks closing off the moonlight and their wide shadows blackening the already gloomy forest.
Busisiwe stopped, holding her digging stick between herself and whatever may fly out of the night; she leaned forward and peered in between the gaps in the trees. A thin, silvery mist floated slowly through the forest, pausing now and then to give a more intimate 'excuse me' with a light sensual touch, as it slipped silently between and around the trees.
As she looked, the limbs and branches became tortured souls writhing in agony. Leaves and thorns shaped themselves into devils and demons. Shadows stretched out long arthritic fingers through the spectral haze, and menacing eyes glared from the void between the trees. When a long gnarled finger beckoned her, she turned quickly back to the river bank.
Thulani was in his boat alongside the jetty. Hearing her coming, he stood on the platform and looked up at her.
"Busisiwe, why are you still here? You should be with the N'ganga now."
"There are evil creatures in the forest Thulani. I cannot pass them."
"They are of your own making Sangoma. You have given life to them. Deny them and they will no longer exist."
 She ran lightly down the slope as she asked,
"How is this done?"
While walking towards him, she raised both arms and made a circle, as she said,
"All this is new to me... This 'Spirit world'...I'm lost here... Please Thulani; help me to understand this place."
She stopped a few feet from him and rested her arms on her hips. Thulani took a step towards her and held out his hand.
"Do you see this beautiful flower Busisiwe?"
He opened his hand, a large white flower head rested in his palm. He closed his fingers, when he opened his hand again, the flower had gone.
"You can do this Busisiwe; think of the same flower in your hand, and it will be so."
She closed her eyes and holding her right hand at arm's length, she concentrated: No sooner had she visualised the blossom, when she felt something soft in her palm. ...She opened her fist, the petals unfolded along with her fingers. There, lying in the middle of her open palm was the same beautiful white flower.
Laughing, she tossed it into the air and thought of her favourite little bird, the flower changed immediately into, not one, but three little green bee eaters. She clapped her hands together and turned to the boatman. He was standing with his hands out and his palms open. She couldn't tell if he was smiling, his head was forever inside his cowl. She felt he was though.
Thulani, took a step forward, towering above her he placed both hands on her shoulders. Busisiwe pushed her head back as she attempted to see into the depths of his cowl. Only the feint glow of his eyes shone from the darkness.
The boatman raised both hands, the light rippled along the edges of his hood as he slowly pushed it back, letting it drop silently onto his shoulders.
Busisiwe's eyes widened. The moon, which had such a profound and defining role to play with everything else in this world, had no business here. Thulani's skin was so black, the moonlight wasn't reflected, it was absorbed.  
Time had gouged deep, wavering furrows along his otherwise smooth forehead. His white eyebrows clung precariously to his brow. Like the petals of the protea flower, they looked ready to fly off in all directions.
The whites of his eyes shone, not just white, but the white from a thrashing wave at its zenith, just before it falls once more onto the surface of a deep, blue, rolling sea. His irides were the sea, powerful and ancient.
A strong broken nose commanded his face. His full lipped mouth, which he held slightly open as though he were about to speak, was silent, apart from a flash from his white teeth.
Two silver rivers of hair swirled and splashed down each side of his head. They met just below his cheekbones where they collided with his beard and moustache before cascading in a boiling torrent into the depths of his robe.
He cupped her chin and lifted her face towards him. Holding her delicately he lowered his head close to hers. His warm breath ran along her cheek lifting her hair just above her ear, he felt her tremble. His moustache tickled as it ran feather-like across her top lip. Then he pressed his lips to hers.
She pulled him closer, his body was hard, there was very little give from his muscled frame,  she lifted her hand and grasped the nape of his neck.  She squeezed firmly before sliding her hand up and scraping the front of her nails lightly on the roots of his short hair. 
His left hand slipped behind her ear, as he drew his hand lightly down the nape of her neck, his index finger slipped into that hollow, he stroked her there, until he felt her shudder.
He ran his hand around her neck and followed the shape of her bare shoulder before descending to her waist.
Her heart was pounding. . She could feel her legs trembling; she shifted her feet to try to calm the tremors. He broke away from the kiss leaving her giddy and breathless, but wanting more. 
The kiss was wonderful, but there was something else... She was attracted to this mysterious boatman; he was a strong, confident warrior; the way he dealt with the crocodile... No one could say he was handsome though... interesting yes, but definitely not handsome.
Her thoughts returned again to the kiss. He was all over her, but it was emotionally flat, as though something else was on his mind.
The physical touching and the kiss itself was a distraction. He was probing her, probing her mind, she felt him there, in, and among her most secret places. Tip-toeing through her mind, touching this, caressing that, delicately lifting the lids on her most intimate secrets. Yet he did so with care. He was gentle in his curiosity. She was confused. 
He was standing in front of her smiling that plausible perfect smile. 
The moonlight bounced and tripped along the wooden slats of the quay. The river, an unconcerned silver ribbon flowed relentlessly past the landing stage.
Thulani's boat dipped in the water as it took his weight. He lifted his pole and pushed off from the pier. The boat slipped into the current easily. He turned to her and called.
"Guard your thoughts well my little Sangoma; in this place, only your own fears have the power to harm you. Go now to the N'ganga, they know you are here and are waiting for you in their village through the trees."
To be continued...
©Weefatfella 2016.
"